Caramel Sauce With White Sugar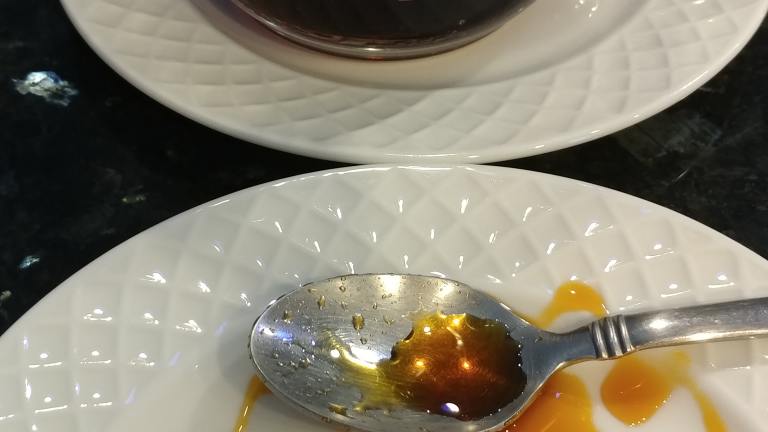 This is the way my mom always made caramel sauce.I use it on popcorn a lot.
Ready In:

10mins

Serves:

Units:
directions
Add the sugar and 1/4 cup of the water to a small saucepan. Place the saucepan over medium-low flame and cook, stirring, until the sugar just starts to turn dark brown, around 10 to 15 minutes.
The color should be roughly that of black coffee, and the sugar will start to lightly smoke.
Remove from heat and immediately and carefully pour the remaining 1/2 cup water into the caramelized sugar.
Be prepared for a lot of noise and boiling. Stir until the sugar is completely dissolved.
Use immediately or store in the refrigerator for several weeks.
Submit a Recipe Correction
RECIPE MADE WITH LOVE BY
"This is the way my mom always made caramel sauce.I use it on popcorn a lot."
Great recipe! Delicious and exactly what I was looking for! This recipe works... EXCEPT... Three things need to be changed. 1st- You are looking for a dark amber color, once the sugar is melted, not a black coffee color. 2nd- And most important, the water must be boiling hot, before it's added to the melted sugar. A temperature reaction takes place in this recipe, once the water hits the melted sugar. Therefore, the hotter the water the better. In this case the water has to be boiling hot, so the reaction won't be as bad. As a precaution, put the pot of molten sugar into the kitchen sink. Then while wearing oven mitts, carefully, pour the boiling water into the melted sugar. Once the water hits the sugar it will erupt like a volcano, with lava made of liquid, molten sugar and steam. 3rd - Only stir the boiling water and molten sugar together, once the eruption stops. Let it cool. Then you will have a perfectly pure tasting, caramel sauce!

The caramel did burn the first time I made it, but the second time it came out nice. Caramel, like other things, continue to cook even after it's been removed from heat. This is called carry-on cooking. To keep the caramel from burning, remove it from the heat AS SOON AS it turns that coffee color. Then, bring it over to the sink, and pour in the rest of the water. It spits water, and it creates a LOT of steam, so be careful -- steam burns are the worst. Stir it, and you're good to go. This caramel is very watery, and doesn't completely harden (unless you keep it in the fridge overnight -- haven't tried that yet, though) but it's still very good. I used this on homemade apple turnovers and sprinkled a little salt over it. Really great.