Baked Apple Pancake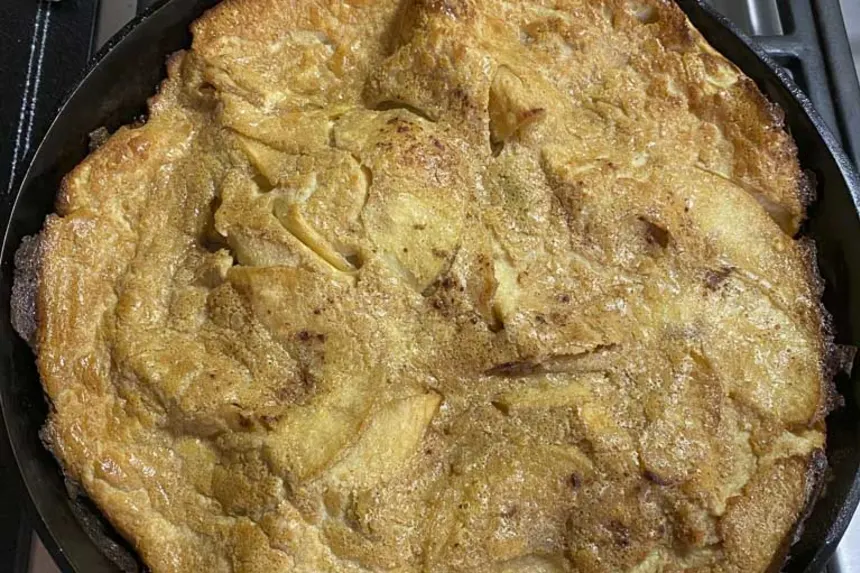 photo by steve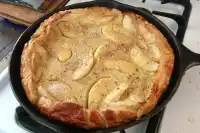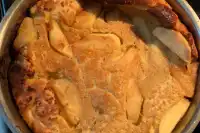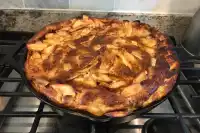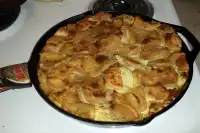 Ready In:

25mins

Ingredients:

11

Serves:

2
directions
Preheat oven to 425 degrees. Beat eggs until light and fluffy in a medium size bowl.
Add milk, vanilla and a few dashes of cinnamon.
Add flour and beat for 30 seconds into a light batter.
Set aside.
Mix together the sugar and cinnamon.
Melt butter in skillet then add sugar mixture.
Immediately add sliced apples stirring to coat evenly.
Cook apples 3 minutes on medium heat, stirring to coat.
Remove from heat and pour in egg batter, arranging the apples evenly on top.
Sprinkle with a little more cinnamon.
Bake in a 425 degree oven for 13-15 minutes (it will puff up).
Remove from oven and sprinkle with powdered sugar.
Cut into 4 wedges and serve hot with lemon wedges and butter, or with maple syrup (or both).
Reviews
I was manager at Bickfords before a step I see a few things that were done differently. If you know you are going to be cooking this, prepare the apples the night before with cinnamon and sugar. When they are baked in the restaurant they are flipped 3/4 of the way through. Before flipping sprinkle some cinnamon sugar and that helps form a glaze. Press it down lightly with a the spatula. This also allows for the crispy bottom. When serving you flip it back onto the plate. This does take a little skill so it may be why so many omit, but it allows it to rise more. Make sure the pancake is fully cooked on the bottom before flipping. It is a little more work and is tricky but it will make that much better. Hope this helps.

 

I have been making this for about a year now. It's awesome!! The only difference is I cook the apples in the fry pan and transfer the apples to a well sprayed 10 inch round cake pan. I save the juices for later. The pie pan is sprinkled with sugar. I add the batter and bake for about 12 minutes. I then flip it on to a baking Stone and bruch the juice from the fry pan on top of it. A little more brown sugar and butter is even better. I bake it on the stone for another 5 minutes or so until it gets about 2 inches tall.....WOW, it is so good. Also don't forget to beat the mixture with an electric mixer, it makes a big difference.

 

Just made it this morning on a whim. Was pretty easy to throw together and I'm not a big baker or chef type. I'll probably tweak a few things at some point. One review said it was a little too much egg taste - I loved that part. I'd probably use fewer apples next time just to get more of a pastry feel to the dish. Or use wait and put half of the apples on top halfway through. Will definitely make it again!

 

Growing up in Boston a trip to Bickfords for Sunday brunch was such a treat, and each time we went we all ordered the baked apple pancake. Over the years I've tried many other versions, but this recipe really got it. The first time I try a recipe I usually follow exactly as written. Next time I'll try Bill M.'s (former Bickfords manager) suggestion about flipping the pancake 3/4 of the way through baking.

 
Tweaks
I am a long time fan of the baked apple pancake but dealing with diabetes and elevated cholesterol has kept me away from it. I just made the pancake with these substitutes: Egg Beaters for eggs, granulated Splenda for sugar, skim milk for whole milk and Smart Balance for butter. I baked it in a 12-inch cast iron skillet and added a 1/4 cup flour and extra one-half egg equivalent of Egg Beaters. I left it in the oven for the full 15 minutes. Absolutely delicious. I used two medium sized Braeburn apples and put half the apples on top partway through baking as Jane Bee suggested a couple of days ago. Will definitely make this again.

 

Was a Bickford's fan and now almost all are gone in this area, just one remains about 45 minutes away so tried this recipe - pretty darn close! I make it with organic coconut oil instead of butter, extra cinnamon, and half the sugar(organic raw) for a healthier version using the 6-7" size lodge cast iron pan(slightly smaller than the recipe calls for). It comes out great every time! We eat it whenever we want a warm, comforting easy to make meal no matter the time of day. We make it with peaches(canned or fresh), pears, apples, bannanas, whatever is fresh and available. Top fav's are peach and apple though.

 
RECIPE SUBMITTED BY
<p>I have been a gourmet cook for over 40 years. In the mid 70's I owned and operated my own gourmet bistro in Connecticut called Le Petit Gourmet and also provided a catering service for upscale clientele. <br /> <br /> I always had an entrepreneurial soul and was a front runner in developing frozen gourmet dinners. Because of a divorce, I didn't follow through which probably would have made me a very rich lady today. <br /> <br />In 1994, I founded the South Coast Gourmet Club in Florida, The South Shore Gourmet Club in Massachusetts and also the Chef Buddies Club.</p> <p>In 2012, I was chosen as one of the 100 amateur chefs out of the 50,000 who competed nationwide, to appear on Season 3 of Master Chef on ABC. &nbsp;I didn't make it through but it was an unforgettable experience.&nbsp;</p>
View Full Profile