Janni402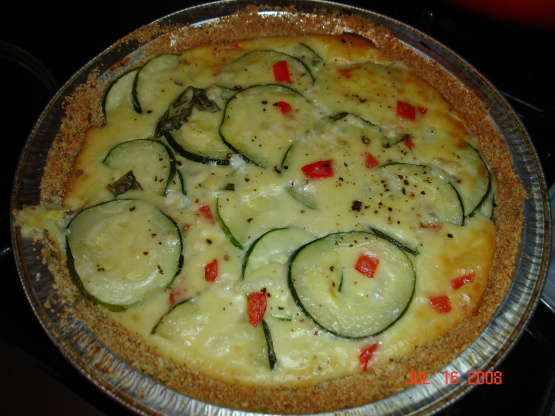 A little different with a bread crumb crust instead of the usual pie crust. Easy to make.

Top Review by Tinks
Bergy, thank you so much! I was looking for one that did not use too much flour or Bisquick (no offense to the Bisquick company!) I wondered if the bread crumbs would stick as they should...worked out perfectly. The romano cheese worked very well, as did the touch of nutmeg. I may add a bit of stronger cheese next time, but that may mess it up, as it was wonderful the way it was. Thank you so much...I had a semi-healthy lunch for three days (It does re-heat very well)
Butter a 9-inch pie plate and press the crumbs into it to make a crust.
Preheat the oven to 350°F degrees.
Sauté the zucchini in the olive oil for 3 minutes; remove and drain again on paper towels.
In a saucepan, melt margarine.
Add flour; stir well.
Add milk slowly stirring all the time.
Cook until thickened.
Stir in the cheese, egg and salt and pepper.
Gently mix in the zucchini.
Ladle into the bread crumb crust.
Bake in 350°F degree oven for 35 minutes.