Sageca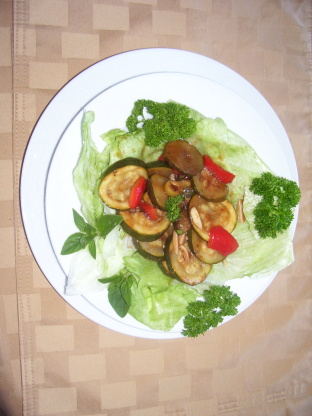 I found this in an old cookbook- Food Editors' Favorites, Treasured Recipes. Thank heavens, because when zucchini is in season, there's never enough recipes to use it all! Cooking time includes chilling overnight.

I served this at a BBQ I had recently. Although I didn't care much for it myself, my guests really enjoyed it!! I liked that it was make ahead. But don't put the zucchini on the lettuce till the last minute, as it is pretty wet and will make your lettuce soggy.
Saute garlic in olive oil. Add zucchini and stir-fry until just tender. Discard garlic clove.
Remove zucchini from pan into a large bowl. Add sugar to pan, then add olives, almonds, vinegar, chili sauce, dressing, and all dry ingredients. Cook over medium heat for 2 minutes, stirring to blend flavors.
Pour sauce over zucchini; toss lightly. Cover and chill overnight.
Serve on salad greens.