Zesty Orange Olive Oil Cake
Demelza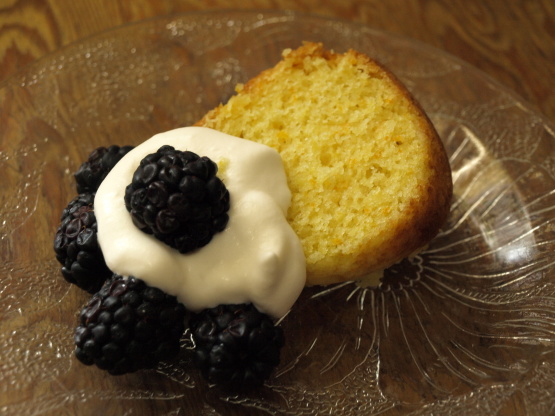 This recipe is adapted from one in Baking A Common Sense Guide. I have made a few minor changes to it. I bake it in a greased 8" silicone bundt pan, but the original recipe said to bake it in an 8" round cake pan. You can mix this up with just a whisk & silicone or rubber spatula. Dust it lightly with some powdered sugar or drizzle an orange glaze over it. I served it with a spoonful of whipped cream & some fresh blackberries. It would be nice with blueberries or strawberries as well. I hope you enjoy it.

Finally, a simple all-natural orange cake that actually tastes of oranges!

I used the zest of two large navel oranges instead of an orange and a lemon because it took two oranges to yield 1/2 cup of fresh juice.

I also used my immersion blender to process the zest with the sugar so the sugar gets infused with the orange oil and makes for a more intense orange flavor than just adding the zest alone.

When I want something traditionally Spanish/North African I replace half the flour with ground almonds and almost always add a teaspoon of good French brandy just to add some depth.

I cook this in a large gratin dish and serve it plain, though I bet it would be delicious with a pillow of cardamom-scented softly whipped cream.
2

eggs

158.51

ml sugar

118.29

ml olive oil (extra virgin works fine in this)

118.29

ml fresh squeezed orange juice (top up with milk if you don't have enough juice from your orange)

354.88

ml flour

14.79

ml baking powder
Whisk eggs & sugar together till well combined.
Add orange & lemon zest.
Stir in olive oil & orange juice.
Stir flour & baking powder in with silicone spatula, do not over mix, batter will be slightly lumpy.
Pour into greased 8" bundt or round cake pan.
Bake at 350 for 45 minutes.
Cool in pan for 5 minutes then turn out onto wire rack.