David04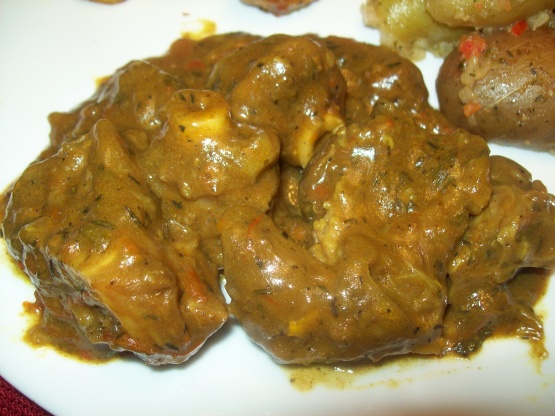 Jamaican Curry Goat. It was delicious.

The flavor is SUPERB! This is excellent, David. There was a bit of confusion for me with the order of the recipe, how much salt would be proper..I was confused about instruction #6 (Add 3 cups of water to the bowl that had the goat and set aside). By the point, I thought that I was already cooking the goat, per instruction #5.

I just had to use common sense, but the amount of thyme and garlic was very good. I also omitted the onion and used 2 eshallots (scallots) instead - very excellent. My curry powder is also a blend from Jamaica which means that it has allspice in it; most necessary.

For flavor, I rate this with 5 stars.

Michelle
Wash and drain goat. Season with salt, pepper, thyme, tomato, 1/2 teaspoon curry, cumin, cilantro, and ketchup. Mix well and marinade in fridge for at least 2 hours
In a coated pot on medium/high heat, saute onion and garlic.
Add the pepper and 1 1/2 tbsp curry and cook about 2 minutes, until it's really thick.
Add 1/4 cup of water and cook on medium heat for 5 minutes. Keep stirring.
Raise heat and add goat, stirring to coat the meat. Cover and simmer.
Add 3 cups of water to the bowl that had the goat and set aside.
Stir every few minutes for about 25 minutes, remove lid and turn up the heat. When you can stir and see the bottom without any liquid, add the water. Bring to boil, turn heat to low.
Cover cook for about 2 hours, stirring every 15 minutes. If needed, turn up the heat to thicken the gravy, being careful not to burn.