Ww Low Fat Baked Tomato Rice
WiGal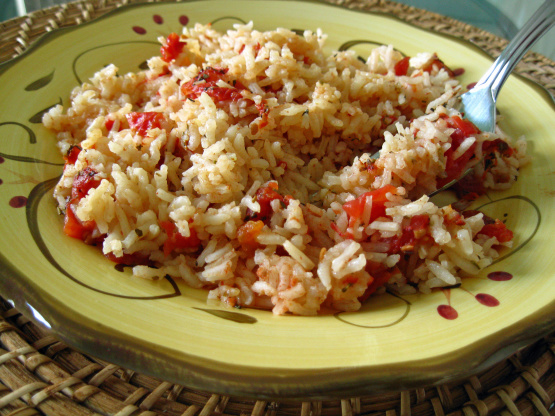 This is a tasty side dish which also works well as a take-to-work lunch reheated in the microwave the next day. Makes 2 lunches or serves 2-3 as a side dish. The figures may be different between countries, but by British Weight Watchers, this recipe is a total of 10 points, so if you make 2 servings out of it, they would be 5 points each.

Top Review by WiGal
Yummy! I love oven recipes. After reading another reviewer saying it was a bit mushy, I decided to drain the tomatoes into a bowl and then subbed the tomato liquid in for part of the water. Definitely not mushy. The tomato liquid was almost a full cup, so that would make a difference. I served as a side dish with fish, and think it would serve more than 3 people-maybe 6 which would also change the NF. Thank you Shuzbud for posting. Made for Everyday is a Holiday.
Heat the oven to 350°F or 180°C.
Put the rice in an ovenproof casserole dish. Add the finely diced onion.
Crumble in the chicken stock cubes and pour over the boiling water. Stir to dissolve the stock.
Add the chopped tomatoes, italian seasoning, parmesan cheese and garlic. Season with salt and pepper if desired. Stir to mix well.
Cover with a lid or tin foil and bake in the oven for 45 minutes.
Uncover after 45 minutes. Stir and bake a further 10 minutes uncovered or until the rice is cooked and most of the liquid has been absorbed.
Serve hot or allow to cool and store in the fridge to be reheated.
NB: If reheating in the microwave the next day, add a little water before heating, to avoid the rice drying out.