Ww Ham Steak With Pineapple Sauce 4-Points
teresas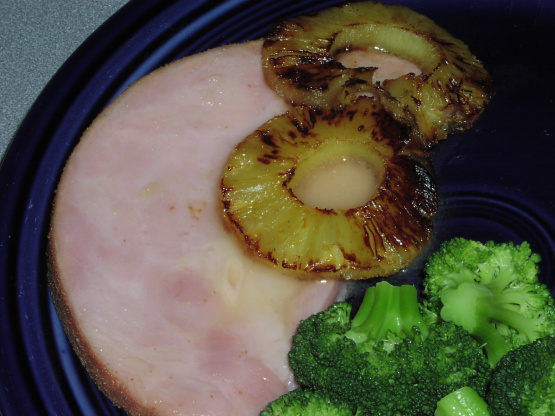 Serve with sweet potato wedges, steamed veggies and corn muffins to complement this pineapple-flavored sauce. Out of a Weight Watchers Cookbook called Simple Goodness. Enjoy.

this was good. putting some extra pineapple on top makes it so much better.
Trim fat from ham.
Lightly score ham slice in a diamond pattern using a sharp knife.
Place in an 11 x 7 inch baking dish.
Combine next 4 ingredients in a bowl, stirring well with a whisk; spread mixture over ham.
Cover with heavy-duty plastic wrap and vent.
Microwave at HIGH 4 minutes or until thoroughly heated.
Remove ham from dish, and cut into 4 equal pieces; set aside, and keep warm.
Combine pineapple juice and cornstarch in a 1-cup glass measure; stir well.
Micowave at HIGH 1 1/2 minutes or until thick and bubbly; stir well.
Serve pineapple sauce with ham.