Wilted Spinach Salad With Sherry Vinaigrette
hlkljgk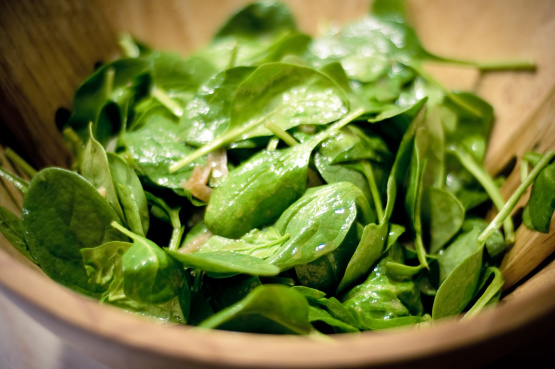 This healthy spinach salad is big on flavor with rich sherry vinegar, a touch of smoky paprika and briny olives. From Eating Well magazine, October 2008.
I made this recipe for our family St. Patrick's Day celebration. It was a big hit. I think I used a bit too much spinach so it turned out a little light on the dressing but over all very good & well liked by all. I did have to substitute white wine vinegar as I thought I had sherri vinegar but did not. It still turned out wonderfully. The shallots really made the dish. Lovely flavor. Thanks FloridaNative.
Place spinach in a large bowl.
Place shallot, vinegar and oil in a large skillet over medium heat.
Cook, stirring often, until the liquid is nearly evaporated.
Add almonds and paprika (if using) and cook, stirring, until fragrant, about 1 minute more.
Stir in broth and olives and bring to a simmer.
Immediately pour the dressing over the spinach and toss until slightly wilted.
Serve.