Wild Blackberry or Dewberry Pie
Olive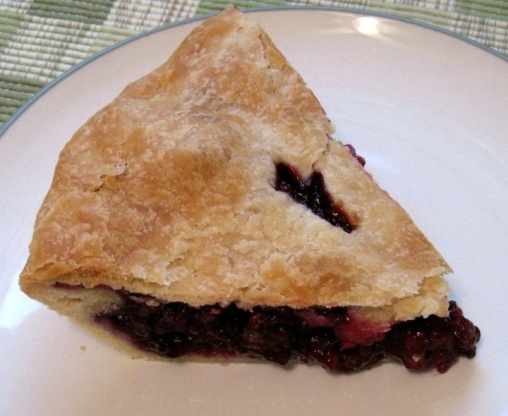 Picking wild blackberries or dewberries is something we did every year for as long as I can remember. We usually make lots of jelly out of the berries, but we also made sure we have our fill of fresh berry pie while the season lasts. The recipe is for the filling only. I do not usually add any spices because we enjoy the full flavor of the berry. However, you can add a bit of cinnamon if you prefer. You can use your favorite pie crust recipe or use my pie crust recipe, which is tender and flaky & never fails me. Pie Crust

This is a great simple recipe. I omitted the cinnamon because we like the true blackberry flavor. This recipe is very popular with my family. Thank you.
Heat oven to 425 degrees.
Prepare pastry.
In a large mixing bowl, add the blackberries and sugar & cinnamon; toss to coat. Next add the cornstarch & lightly mix. Place filling into pastry lined pie pan. Sprinkle lemon juice over filling & dot with butter.
Cover the filling with the top pie crust. Trim the excess crust off around the pie and seal. Cut slits in top of pie crust. Bake 50-60 minutes or until crust is golden brown & juice begins to bubble through the slits in crust. Cool completely before slicing.