Wiener or Jaeger Schnitzel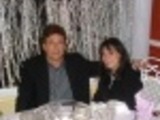 What's not to like about meat pounded tender and thin, dipped in egg and flour, and fried to a golden brown? Adapted from Black Forest Mill German Restaurant
Directions
Trim excess fat from veal or pork. Place cutlets between 2 sheets of waxed paper; flatten to one-eighth- to one-quarter-inch thickness. Combine flour and pepper in a shallow dish. Mix egg and buttermilk in another shallow dish. Coat cutlets with flour mixture, dredge in egg, then coat with bread crumbs. Let rest for 15 minutes.
Heat large skillet on medium. Add oil; when hot, carefully add cutlets. Cook 4 to 5 minutes on each side or until browned. Transfer to a platter. Garnish Wiener schnitzel with lemon wedges and serve. Serve jaeger schnitzel with German gravy.
To make German gravy: In a large saute pan, melt butter on medium-low heat until liquefied.
Slowly whisk in flour, stirring constantly until the mixture resembles dough and is dark brown.
Slowly add broth in small amounts, stirring constantly. Add salt, pepper, nutmeg, onion, tomato and mushrooms, and reduce heat to low.
Simmer, stirring occasionally, for 5 to 7 minutes, or until vegetables are soft.
Reviews
Most Helpful
I made the Wiener Schnitzel & was a little disappointed it...maybe I should have made the gravy, too. Doubt if I'll make it again, though. Sorry!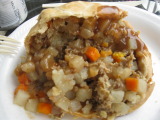 Technically, we ended up with something of a hybrid: breaded, as Wienerschnitzel should be, with a wonderful Jaegerschnitzel mushroom gravy. I have to say it was excellent, and the question of breaded or not is probably a regional one. That said, this is the right approach to breading, the breading stayed in place, and the use of buttermilk was a nice twist that seems authentic but which I haven't seen before. Everyone loved it! I'll be trying this with chicken or veal soon.

Great! So simple and tasty advice would be to add extra oil when flipping the schnitzel and use a low heat as most of my peices stuck to the pan and had no batter on the one side