Whole Wheat Honey Banana Muffins
Prep 20 mins
Cook 15 mins
These muffins are delicious and have a great texture, and they are 100% healthy! No refined flour or sweeteners. We have a big family, so this recipe makes a lot of muffins, but it is easily halved for a smaller group. To make the muffins lower in fat, replace half of the oil with unsweetened applesauce. I also use "white whole-wheat" flour, which is softer than that made with red wheat (but has the exact same nutritional value).
Directions
Stir together dry ingredients.
Beat oil and honey together; add eggs and beat well.
Add bananas and beat to combine.
Add dry ingredients to wet, alternating with hot water; mix well after each addition.
Spoon batter into 24 greased muffin cups; bake at 325 degrees for 15 minutes, or until muffins are golden brown and test done.
Remove from oven and cool on rack.
Most Helpful
Fantastic!!! I altered it a bit. I used 1/3 unbleached white flour and 2/3 whole wheat flour. Then I used virgin coconut oil instead of olive or canola. Last, I topped it with a homemade sprinkle to make the top sweet. (pulse rolled oats, almond slivers, and brown sugar in a blender) These were amazingly moist and just sweet enough. YUMMY!
Followed the recipe exactly and they turned out great! I was nervous that using all honey might effect the texture and rising capability of the muffin, but it wasn't a problem at all. Very moist too which is key to any good whole-wheat baked good (might add a couple extra bananas next time to bump up the moisture factor). A keeper, thank you! FYI- Another of my favorite "doesn't taste like whole-wheat" recipes is Manuela's Fruity Whole Wheat Oat Bread (Recipe #44674). Also excellent.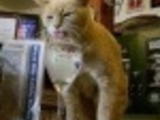 I'll be honest, I was super-skeptical about whole wheat muffins being delicious. But I tried them anyway, using the super-crunchy whole wheat flour I had laying around, and they were a huge hit with all the picky people in my household.

I did add chopped walnuts and only had 1/2 c. honey so I subbed brown sugar for the other 1/2 c.