Whole Wheat French Toast (Vegan)
Found this recipe in the As You Like It Cookbook, 2001, & am posting it here along with its non-vegan counterpart!
Directions
Put soy milk, & cornstarch in a blender & mix well.
Add brown sugar, vanilla extract, cinnamon & salt, blending until smooth, then pour into a shallow bowl & set aside.
Put the unbleached white flour in another shallow bowl & set aside.
Put canola oil in a large frying pan & heat over medium heat.
Soak each slice of bread in the soy milk mixture for about 30 seconds, then dip each slice in the white flour, being sure to coat both sides before place each slice in the heated pan.
Cook for 3 to 4 minutes, or until the bottom is brown, then using a spatula, turn the each slice of bread over & cook the other side another 3 minutes.
Serve quickly, drizzled with syrup.
Reviews
Most Helpful
What a great recipe. I liked this better than regular French toast! I do recommend soaking the bread for less time. When I did it for the full 30 seconds, the bread was still a bit soggy in the middle after the outside was completely cooked and ready. Note - this could be because of the bread I used.? When soaking for less time, the French toast turned out perfect and crispy. I LOVE the flour method. It really creates a crispiness. The flavor is excellent, too. Yum!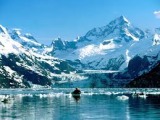 Definitely the best vegan recipe I've tried! Omni tested and approved as well :) I'll be keeping this one around. I skimped a bit on the flour after reading other reviews, but wouldn't next time! It's what gives the toast that "french toasty" texture. Ingenious! I used unsweetened almond milk in place of soy (as I often do) and it worked out fine! Thanks for the recipe!

Great recipe! Nobody would ever know that it's not made with eggs and milk. This is delicious and easy to make! Reviewed for Veg*an Swap, June 2010