White Rice Pilaf With Corn, Roasted Chiles and Fresh Cheese
Prep 30 mins
Cook 30 mins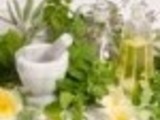 Queso Fresco (fresh Mexican cheese) is called for in this recipe but you can substitute Feta or any fresh cheese like Farmers, etc. This would make a nice main course as well with a salad
Directions
Roast,peel,remove seeds and slice the poblano chiles into short thin strips.
Start the rice about 40 minutes before you want serve.
Combine the oil, rice, and onion in a 2 quart saucepan over medium heat. Stir frequently for about 7 minutes until the onion is translucent but not browned.
Add the broth to the rice mixture along with the chiles and corn, stir well, scrape down the side so the pan, cove and simmer over medium-low heat for 15 minutes>.
When the rice has cooked 15 minutes, let it stand off the fire, covered for 5 to 10 minutes until the grains are tender.
Add the crumbled cheese and toss the with a fork to incorporate the ingredients and stop the cooking. Scoop into a serving bowl and garnish with the watercress or parsley and serve.
Most Helpful
A wonderful recipe. I used it as part of a meal for 80 at the American Legion in Chapala, Jalisco, Mexico that featured food from the Yucatan. People raved about the rice. I made one small change and used a special lard you can get down here that they make chicharones in. Thanks for sharing this wonderful recipe.

This is a VERY NICE rice! I used feta but am not quite sure I liked it in it...I think I would have liked jack cheese better with the other flavors. I used a red onion, a 14oz can of chicken broth and a 4oz can of diced mild green chlies. I topped it with the watercress but would have preferred cilantro. All in all I will make this again with my preferences. The corn is very nice in it I didn't bother to defrost it I just brought the rice to a boil again before putting the lid on. This also tasted even better as leftovers! Made for PAC Spring 2007.