Whipped Carrots With Cranberries
loof751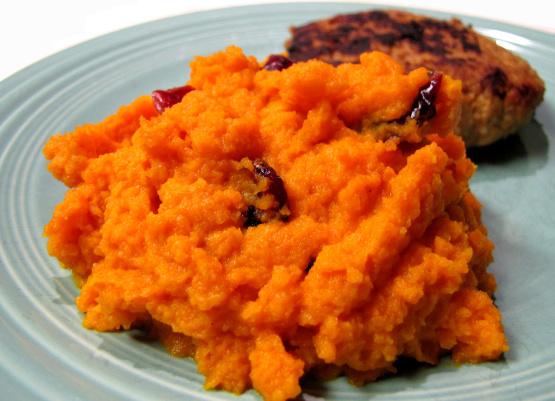 Found the original of this slightly tweaked recipe in the 2008 cookbook, Taste of Home Dinner on a Dime.

This side dish was served with weinerschnitzel and it was a perfect pairing!
Used fresh organic carrots which were steamed then whirled everything minus
the cranberries in a mini food processor (recipe was cut in half.) I saved the steaming
liquid and used about 2/3 cup to help puree the carrots to desired consistency. I might try
fresh ginger next time or a combination of parsnips and carrots. Simple! Made for Best of 2011. Thanks!
for Best of 2011.
Place carrots in a steamer & steam for 15-20 minutes until tender, then drain.
Place carrots in a food processor (or be ol' fashioned & put 'em in a bowl & go at 'em with a hand-held masher!), then add the butter, brown sugar, ginger & salt. Cover & process until smooth.
Transfer to a serving bowl & stir in the cranberries.