Calee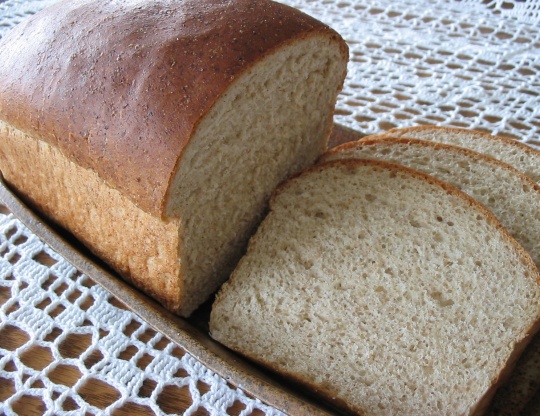 My favorite wheat germ bread was no longer available I had to try to copy it, this is what I came up with. Its great toasted.

The dough was firmly holding its shape when touched, so I added an extra 1/4 cup of water to increase the hydration. Other than that, this is a fantastic recipe. The flavor of the bread is incredible.

The only other deviation I made was to do the initial rise in the refrigerator overnight after only a little bit of kneading. The next day, I took it out and let it warm up for 30 mins, then kneaded it in the stand mixer for 5 minutes or so before forming into loaves.
In a small measuring cup add warm water, yeast and honey, stir well,set aside for 10 minutes until foamy.
In a skillet toast wheat germ, on medium heat for 5-8 minutes, stirring constantly, cool.
Either in a food processor or stand mixer add flour, whole wheat flour, cornmeal, salt and cooled wheat germ.
Add olive oil and proofed yeast mix well. Mix until a smooth ball forms.
Take out of mixer and knead on slightly floured board (4-5 minutes).
Put dough in a large greased bowl and cover with a clean towel.
Let rise in a warm place for 60 minutes until double in bulk.
Punch down and form into loaf, placing in a well greased 9x5-inch loaf pan.
Let rise for another 30-45 minutes.
Bake at 375°F for 25 minutes.
Take out of oven brush with butter, let cool on wire rack.