Weight Watcher's Shepherd's Pie
Alskann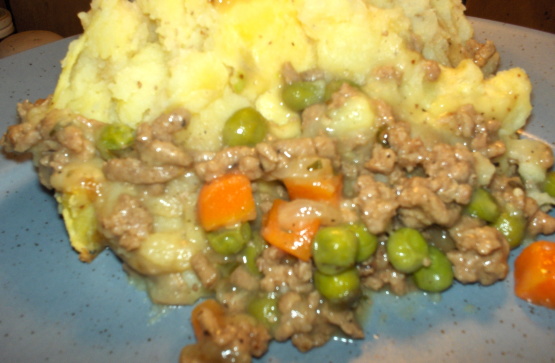 3 Points for a 1 cup serving! A delicious meal, especially on a cold winter evening.

I made this with 99% lean ground turkey, in order to make it extra healthy, and scratched the carrots and just used peas. It came out delicious, although it was a tad bit bland and the meat mixture was a teeny bit too dry for my taste. I tasted the meat mixture before I popped the whole thing in the oven and it was amazing and VERY juicy. Soo, I am thinking the reason for the dryness is from cooking for 40 minutes in the oven, and I am definitely going to make this recipe again next week and try cooking it in the oven for only about 20-25 minutes. Thanks so much for this great recipe, Diamonds!
Boil potatoes until tender enough to mash. Add milk and 1/2 cup of the chicken broth, mustard, and mash together. Add salt and pepper to taste.
Preheat over to 350.
Spray nonstick skillet with cooking spray (or small amount of oil). Add the onion and garlic and cook until soft. Add the ground turkey and cook until browned.
Sprinkle flour over the turkey mixture. Stir well and cook until flour is absorbed (about 30 seconds). Stir in worcestershire sauce, sage, salt and pepper.
Stir in 3/4 cup chicken broth. Turn down heat to simmer and cook until the sauce bubbles and thickens.
Stir in peas and carrots. Pour the mixture into 9-inch square baking dish. Spoon the mashed potatoes over the turkey mixture.
Place on a rimmed baking sheet and place in oven for about 40 minutes.
Let stand about 5 minutes before serving.