Weight Watchers Broccoli With Cheese Sauce
Boomette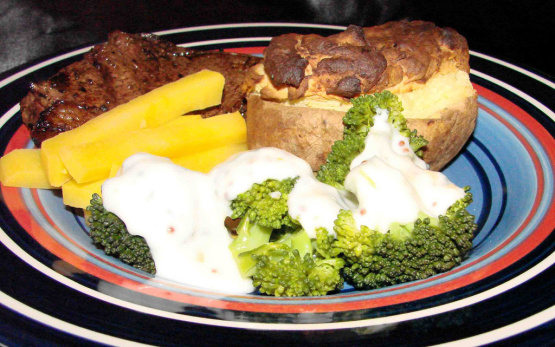 I like to find different ways to make broccoli and especially those ways that are good for you. The recipe is 2 points per serving for a total of 4 servings. This recipe is very cheesy. If you like your vegetables more in the natural state, add more broccoli. This could affect the points values, though.

Loved this recipe! I always enjoy broccoli with cheese sauce more than plain broccoli but this took the guilt right out of it! I did throw some parmesan into the sauce right at the end to boost the cheese flavour- think the cheddar I got was very mild. Thanks for a lovely recipe!
Bring 1 inch of water to a boil in a large pot.
Place broccoli in a steamer basket and set over water.
Cover and steam until crisp-tender, about 5 to 6 minutes; drain and return to pot.
Alternatively, you can cook broccoli in microwave.
Meanwhile, in a medium saucepan, whisk together milk and flour until blended; place over medium-high heat and bring to a boil, stirring often. Reduce heat to low and simmer until slightly thickened, about 3 minutes; remove from heat. Whisk in cheese until melted; whisk in mustard and salt.
Pour sauce over broccoli and toss until coated.
Yields about 1 cup per serving.