Wasabi Tuna Burger With Thai Style Cucumbers
ararejul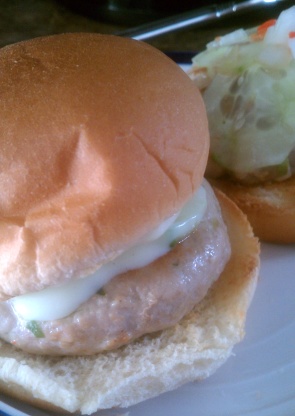 I subscribe to the "Chef To Chef" newsletter and this is one of their recipes. I have not tried it yet. I hope you find it interesting.

We had a small disagreement with how to execute the instructions that led us to making the burgers 3 different ways. one was minced and then blended in a food processor, two was just minced, and 3 was the steak seared. <br/><br/>1) had the most flavor but was also the driest<br/>2) was really good and we decided our favorite but we'd marinate longer next time<br/>3) had the least flavor but was okay for just being a seared tuna steak
Cucumbers:.
Combine all cucumber ingredients in a sealable plastic storage container. Chill for two hours.
Tuna Burgers:.
Remove any sinew from the tuna and chop into fine dice. Add the scallions, ginger, mustard, soy sauce and pepper and blend thoroughly. Do not over mix. Form into 4 equal portions and make patties. Chill for 1 hour.
While the tuna patties are chilling, mix the wasabi powder with just enough water to make a paste. Allow to sit for 20 minutes. Add it to the mayonnaise and lime juice and chill.
Heat a skillet and add about 2 tablespoons of the peanut oil. Cook the tuna burgers until just done, about 4 minutes per side.
Place a piece of lettuce on the bottom of each bun and top with a few slices of cucumbers. Top with tuna burger. Then top with the bun top which has been spread liberally with Wasabi Mayonnaise. Serve with the remaining Thai Style Cucumbers on the side.
The preparation time does not include the chilling time.