Warm Cabbage With Pineapple and Peanuts
loof751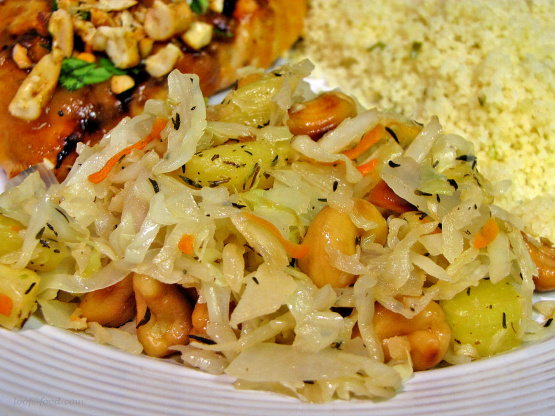 The Eat Caribbean cookbook says that green cabbage is a standard food throughout the islands and is used in salads and rundowns, fried with salt fish or steamed with carrots.

This was a pleasant surprise! I thought it would be good but it's really terrific. I used thyme and cashews instead of peanuts as I was using them in another dish as well. My pineapple was pretty sweet so I didn't need to add the honey. Really enjoyed this delightfully unusual dish - thanks for sharing the recipe! Made for ZWT9, The Apron String Travelers
Heat about a tablespoon of oil in a large skillet. Add the pineapple chunks to the hot oil, stirring so they don't burn ( you do want the pineapple to brown slightly).
Add the onion, herbs and peanuts and fry for 2 more minutes. Taste the pineapple and add the honey if you need to at this time.
Toss in the cabbage and sprinkle on a little salt and pepper. Stir for about 4-6 minutes until the cabbage is linghtly cooked. Then serve with rice.