V's Crock Pot Bottom Round Roast
Parsley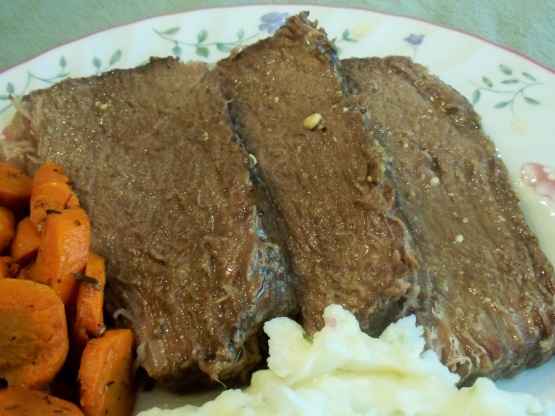 After trying a variety of roast recipes, I decided that this combination of different recipes worked best for me. You can also add 1/2 cup sliced mushrooms to the onion and carrots if you like a mushroom gravy or some peas too. This just in: 9/8/8 - this recipe just won 2nd place in a Beef Roundup contest sponsored by Country Woman magazine and will be featured in the Feb/March 09 issue.

Top Review by GFJane
As with a few other reviewers, I found the time to be too short, but my roast was a bit larger. I think I had a 4 lb roast and it took 9 hours to be fork tender. It was an easy recipe and it tastes good - so I'm happy. I didn't think it would cook in 6 hours, though, so I counted on 8. We still ate an hour late :-). I did salt and pepper, then brown the roast on high heat in my Dutch oven, simply because I'm used to doing that and think it is helpful to do. It's the only change I made - it does make for more mess and add 10 minutes to the prep.

I also agree with another reviewer who suggested using a wine you'd like to drink vs. a cheap wine that you wouldn't drink. It really makes a difference. I used to think it was a waste, but after some experiments, I found that it is more important than I thought.
Place chopped onion and carrots in bottom of crock pot.
Season all sides of the roast liberally with the kosher salt and ground pepper.
Place roast on top of onions and carrots, fat side down.
Combine mustard, sugar, Worcestershire sauce, beef broth and red wine in a separate bowl and pour over roast
Set crock pot to low and cook for 3 hours.
After 3 hours, turn the roast onto one side and cook for 20 minutes.
After 20 minutes, turn the roast on the next side and cook 20 minutes, repeat until the roast has the fat side on the bottom again.
Cook for about 2 more hours usually 6 hours total.
The roast is done when it shreds easily with a fork.