Vietnamese Chicken Meatballs in Lettuce Wraps
Aelie C.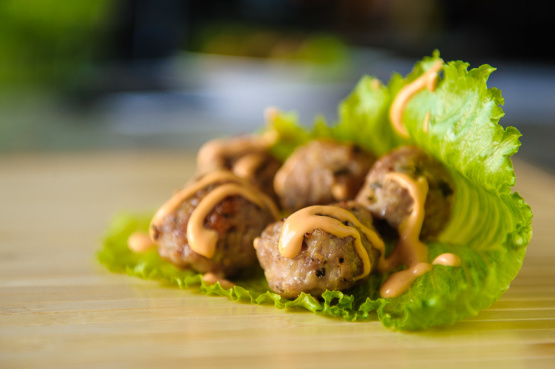 From Food & Wine, June 2006 (recipe credited to Jennifer Joyce)

Very good! I love the combination of flavors. The fish sauce and sugar coating say authentic to me. I had to substitute dried mint for fresh in the meatballs, and skip it in the wraps, and also used green onion instead of shallots. I mixed up the meat mixture (using pre-ground chicken) the day before, shaped it into meatballs, and refrigerated it. The next morning, I coated the meatballs with sugar (only needed about 2 1/2 tablespoons of the finely ground white sugar I get here), and baked them. Thank you very much for sharing this recipe with us.
1

lb boneless skinless chicken thighs, trimmed of visible fat and cut into 1-1/2-inch pieces

3

tablespoons asian fish sauce

3

small shallots, finely chopped

3

garlic cloves, minced

1

stalk fresh lemongrass, tender white inner bulb only, minced

3

tablespoons chopped cilantro, plus
1⁄3 cup cilantro leaf, for serving

1

tablespoon finely chopped mint, plus
1⁄3 cup fresh mint leaves, for serving
1 1⁄2 teaspoons cornstarch
1⁄2 teaspoon kosher salt
1⁄2 teaspoon fresh ground pepper
1⁄2 cup granulated sugar

1

head boston lettuce or 1 head red leaf lettuce, leaves separated

1

small seedless cucumber, peeled halved lengthwise and thinly sliced crosswise

1

small red onion, halved and sliced
Asian chili sauce, for serving
Preheat the oven to 400°. Position a rack in the top third of the oven.
In a food processor, pulse the chicken until coarsely ground; transfer to a bowl.
Add the fish sauce, shallots, garlic, lemongrass, chopped cilantro and mint, cornstarch, salt and pepper and mix with your hands.
Line a large, rimmed baking sheet with parchment paper.
Spread the sugar on a plate.
Using slightly moistened hands, roll the chicken mixture into 1 1/2-inch balls.
Roll the meatballs in the sugar until they are evenly coated.
Transfer the meatballs to the prepared baking sheet and bake them for 15 minutes, until they are lightly browned and cooked through.
Meanwhile, arrange the lettuce, cilantro and mint leaves, cucumber and onion on a platter.
Transfer the meatballs to the platter and serve with chili sauce.