Red Curry Carrot Soup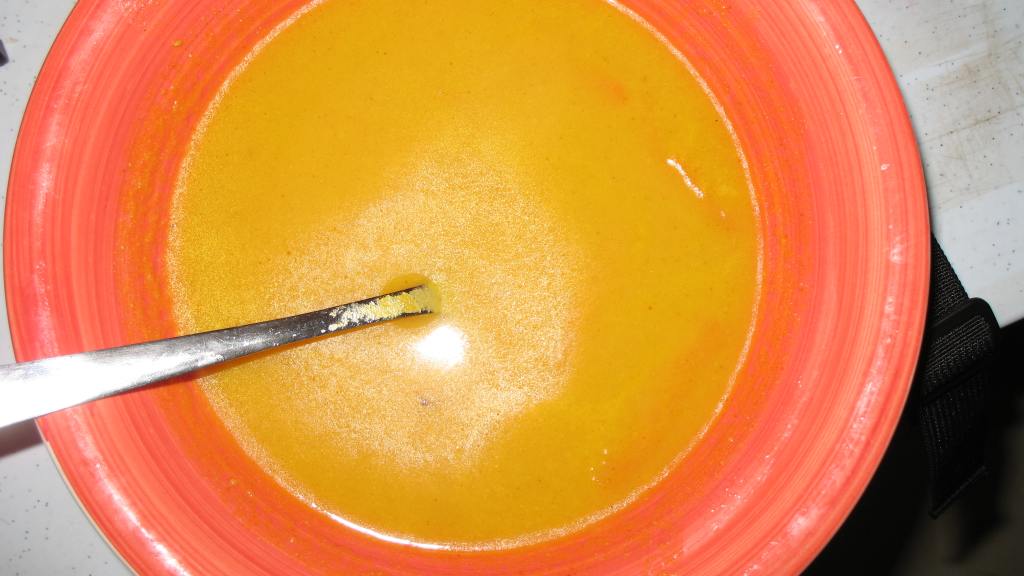 Ready In:

1hr

Ingredients:

12
directions
Heat the oil in a large saucepan or stockpot.
Add the sliced carrots (not the matchstick carrots) and ginger and sautee over medium-high heat, until the carrots are crisp-tender and lightly browned, about 6 to 7 minutes.
Add the onion and cook until softened but not browned, about 2 minutes.
Add the stock, water, coconut milk and curry paste to the saucepan and bring to a boil.
Reduce heat to medium-low and simmer over until the carrots are tender, about 25 minutes.
Strain out the solids, reserving the liquid; discard the ginger.
Transfer the carrots to a blender and puree with 1 cup of the cooking liquid until very smooth.
Return the puree to the cooking liquid.
This can also be done with a stick blender if you have one and will be much easier- just remove the ginger and puree in the pot.
Add the carrot matchsticks and cook until tender, about 3 minutes.
Season with salt and pepper, to taste.
Serve hot, garnished with the scallion, cilantro and basil.
For Vegetarian use Vegetable stock.
Join The Conversation
I forgot to use the basil but did remember the cilantro. This was super tasty. I had one guest who didnt like it because the ginger was overwhelming. I am now thinking that by slices you meant like two little circles of ginger and i did a whole arm so it makes sense why it was strong in mine. I served it with Recipe #16570 and it tasted good. Not sure if those two recipes are the best paring but i enjoyed eating them both around the same time. Thanks!

Very good! I doubled the recipe and made the following changes: pureed the whole batch; left ginger slices in the soup; heavier handed on the coconut milk and red curry paste; omitted water; used 1/2 chicken broth and 1/2 Trader Joe's soy ginger broth. Thanks! This will be a great take to work lunch this week!

yum yum yum. doubled the onion...sauteed it first. Put in a pinch of cilantro and basil while cooking. Added a sweet potato. Substituted sweet paprika and masala curry for red curry paste. No need for matchsticks...blend it all. 4 stars only because of the changes...without the additions it is 4 star...with it is a 5!