Rita1652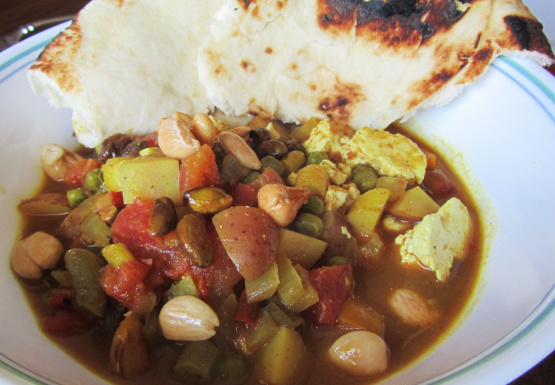 This is from the Canadian Heart and Stroke Foundation... I love Veggie Korma, so a reduced fat / sodium version, with an increased amount of protein sounded like a plan and a half!

For more authenticity I used coconut oil for the vegetable oil, low fat coconut milk for the milk, cilantro/coriander leaves for freshness, the cayenne replaced with1 dried red chili nice and spicy. ;) I opted for the paneer. Loved the sweetness the raisins gave the dish. Served for lunch with naan.
Shukriya! Namaste
Made for ZWT #8 Lively Lemon Lovelies
Heat 15 mL (1 tbsp) oil in a large skillet over medium heat. Place mixed nuts in the skillet, cook and stir until golden brown, and set aside.
Stir onion into the skillet, and cook until tender. Mix in garlic paste and ginger paste, and cook 1 minute. Stir in tomato sauce, cayenne pepper, turmeric, coriander, and garam masala.
Pour in water, and mix in raisins, carrots, green bell pepper, green beans, peas, and potatoes. Bring to a boil. Reduce heat to low, and simmer 20 minutes, until potatoes are tender.
Add crumbled pressed cottage cheese with the vegetables. Stir-in milk, bring to a boil, and continue cooking 2 to 3 minutes.
Season with 1 mL (¼ tsp) of salt.