jrusk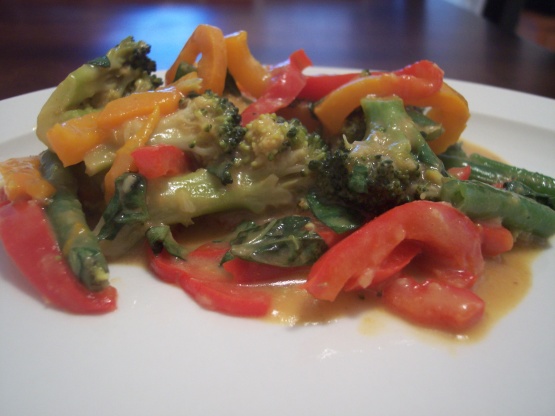 From Danny Seo in a R.Ray pullout. The day the magizine came I happen to have the ingredients on hand. As posted this serves 8. I halved the recipe and got four big servings. Would be great for an all veggie dinner served over rice.

Pretty darn good. I had some left over red curry in the freezer which I used in place of the green curry. I also fried up some eggs which I cut into pieces and added at the end with the basil (my wife has become anti-tofu and I wanted to add some protein to the dish). I didn't think all of the veggies would get cooked down but they did. If I make it again I think I'll toss the green beans in a little bit before the broccoli and the peppers.
In a skillet, heat oil over high heat. Stir in curry paste and garlic, cook for 1 minute.
Stir in coconut milk, soy sauce and ginger. (I add hot chili sauce for spice and heat). Add broccoli, red peppers and green beans. Cover and simmer, stirring occasionally, until the vegetables are crisp-tender, about 4 minutes. Stir in basil before serving.