KateL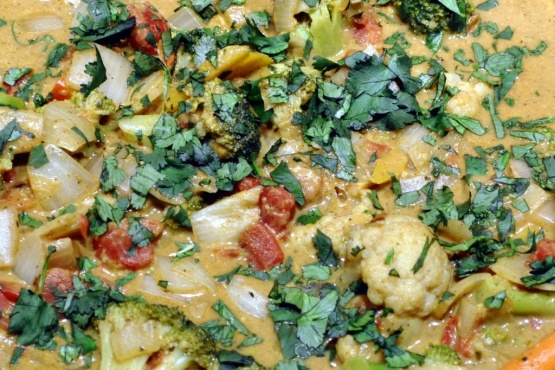 This recipe was given to me by my dear friend and neighbor, Monica. She made this dish at our most recent potluck that we have quarterly with some of our neighbors. It was really delicious!

Top Review by KateL
Indian curries benefit from long simmering to help the spices blend; these flavors hadn't fully mellowed by the time of this dish was served, so I would tweak before making this again. The full can of coconut milk seemed too much (the end result was very saucy), so I think a can of drained and rinsed garbanzo beans could be added to make a complete but vegetarian meal, or the vegetables could be increased (even doubled). I'm still new to Indian cooking (although obsessed with it), but I would introduce the coconut milk earlier to allow all to simmer longer and let the coconut milk to reduce. I think most people would serve this over rice. I used a drained 14.5 oz. can of diced tomatoes instead of 2 medium tomatoes, which worked fine for me. Please consider re-ordering the ingredients in the order used in the recipe as the cooking progresses rather quickly. This recipe is worth tweaking for a tasty vegetarian dish. Thank you for sharing, Nancy. Made for Please Review My Recipe tag game.
Heat oil in a skillet over medium-high heat. Add onion chunks, garlic and ginger; cook for 2 minutes. Add tomatoes and cook for approximately 5 minutes. When tomatoes are cooked enough and become paste-like; add garam masala, coriander powder (or curry powder), cardamom and tumeric; stirring well.
Add mixed vegetables and cook on low heat until vegetables are soft and tender. Add coconut milk and mix well. Simmer for 1 minute. Add cilantro, cover and turn off the heat.