TXOLDHAM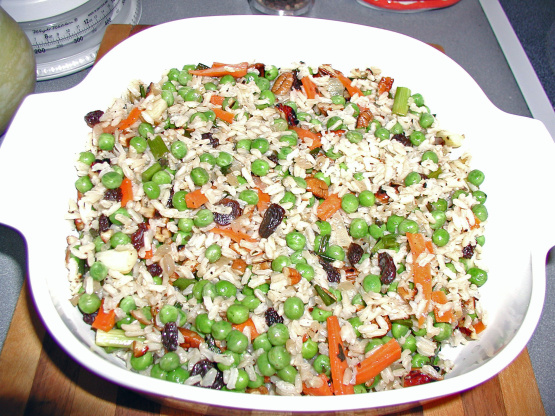 This recipe comes for August/September 2004 Light & Tasty. It makes a wonderful side dish or with all the veggies and nuts it can stand alone as a light main dish.

I have made this twice now and didn't have a bag of just peas on hand either time, so subbed a bag of mixed veggies and it turned out WONDERFUL both times. Served it as a side with garlic tilapia. This is an awesome dish that I will make often. Thanks so much for posting. Delicious!
In a medium size saucepan, bring the water to a boil.
Add the rice and basil stirring well.
Reduce heat to low; cover and simmer for 45 minutes or until rice is tender and the water has been absorbed.
In a large non-stick skillet, stir-fry the carrots, onion, and green onions in hot oil for 5-7 minutes or until vegetables are lightly browned.
Add peas and salt; cook for 1 minute or until vegetables are tender.
Stir in pecans, raisins and rice; heat through.
Please note: If serving as a main dish the serving size yield will be less.