Vegetable and Cashew Stir Fry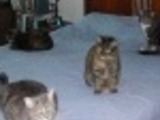 Edamame (green soybeans) are one of my favorite beans. The beans, along with the nuts, make this a pretty substantial dish with no need for tofu or meat. The veggies add lots of vitamin A & C. This is mildly flavored, suitable for a family. Add garlic and/or red pepper flakes and/or sesame oil for a stronger taste. Since BF is not fond of broccoli we substituted asparagus. Serve over white or brown rice. From a vegetarian "minute meals" cookbook.
Directions
In medium saucepan, prepare rice according to package directions.
If the cashews are unroasted, preheat oven to 400 degrees Fahrenheit, sprinkle cashews on cookie sheet and toast for about 10-12 minutes or until they start to turn brown.
Meanwhile, rinse edamame under cold water and drain.
In a cup, stir together the broth, soy sauce and cornstarch.
Heat the oil in a large wok or deep skillet (preferable nonstick) over high heat. Add the red pepper, edamame, asparagus (broccoli), carrots and ginger and stir fry for 3-4 minutes, or until asparagus (broccoli florets) is crisp-tender.
Add the cashews and scallions and stir fry for 2 more minutes.
Stir the broth mixture to recombine and add to the vegetables. Bring to a boil, and cook for 2 minutes, stirring, or until sauce is thickened and bubbly and the mixture is heated through. Serve over rice.
Reviews
Most Helpful
A great way to enjoy edamame! I used the broccoli option, which everyone enjoyed. I agree with Prose, the sauce is, well, saucy - I like mine a bit thicker, so would probably use a cup of broth the next time around. I added hot chili sauce to mine once I plated it to add some heat.

I really liked this! It was easy and will be flexible depending on what's on hand. Next time I'll cut the vegetable stock in half because I prefer my stir fry sauce to be a little thicker. I may also add a few more cashews because I think I snacked too many before hand... This will make more than 4 servings. I'm guessing around 6-8, but we'll see, I'm only on serving #1! Made and reviewed for Veg*n Swap 17.

This was a wonderful combination of vegetables. I used the broccoli option. The edamame and cashews were a refreshing change from tofu stir fries. My only complaint is that, similarly to Chef Pollo, I found that it was awfully saucy. The sauce had a good flavor and was easy to make, but it was very thin, even though I simmered it to the point that the vegetables were a little more cooked than I would prefer. Next time I will probably double the cornstarch and reduce the amount of broth. I added a dash of sri racha to the sauce. Next time I will probably add a squeeze of honey too. I didn't really measure any of the vegetables. I just used one whole red pepper, a whole package of edamame, a bunch of broccoli, 2 shredded carrots, etc. because I don't like to have waste. I don't think that was my problem, though, because if anything, I ended up with way more than 4 servings. There was a ton leftover! All in all, very tasty; thanks for posting!