Good for breakfast, snack, very hot after a cold day.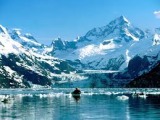 A healthy and filling way to start your day! I used rice milk because that is what I had on hand. The only change I'd make is to reduce the cinnamon. 2 tablespoons seems like an awful lot. Thanks for posting! Made for Fall Pick A Chef found in the Contests and Events forum.
Warm milk in the microwave for 1 minute.
Put the oats, sugar and cinnamon and sugar in and stir. Let stand for 1-2 minutes.
Eat. You can also add apple slices on top, raisins, nuts. Go crazy.