gailanng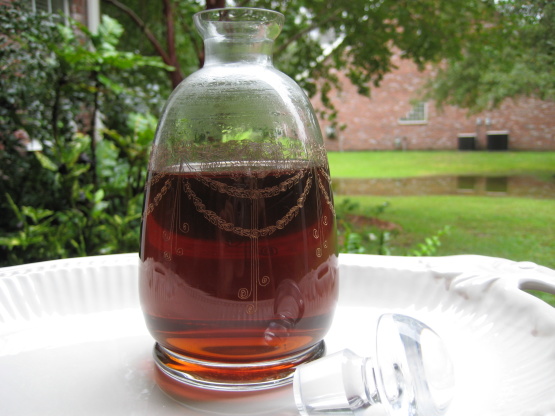 This is a copycat of the Torani-style flavored syrup. You can also use almond extract, hazelnut, or any other flavor. Easy and inexpensive, compared to coffee-shop prices! Makes a nice holiday or hostess gift.

My only complaint is the lack of info on serving size. Otherwise, this worked wonderfully. For others' info: Boiling for 10 minutes yielded about 3 cups for me, which makes each serving about a tablespoon and a half.

Also for others' info re: boiling sugar, the reason why it gets thicker and harder is that the water is being evaporated from it as it boils. Starting with nearly-equal portions of water and sugar and boiling for ten minutes should not put you anywhere near the candy zone; it'll just get you a slightly thickened syrup, not even as thick as honey for example. You should be careful if you try a half-batch or boil it longer to make it thicker, though, as that will affect how likely your syrup is to over-thicken.
Combine the sugars and water in a saucepan.
Boil for at least 10 minutes.
Let cool. When solution has cooled, add the extract and stir well. Store in an airtight bottle or container.