Upside-Down Blueberry Pancake
Ms B.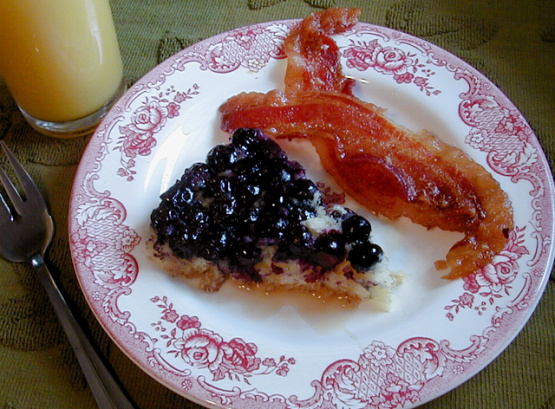 This is like having cake for breakfast. It is an excellent way to serve pancakes on a busy morning. You don't have to stand at the stove and keep flipping.

Top Review by Kohtzy
This was really good. It did take us around 21 minutes to fully bake it, but the result was good. We used a pint of fresh blueberries and bisquick. Next time we will sprinkle some sugar on top of the fruit because it wasn't sweet enough for us even with syrup (although maybe strawberries wouldn't need them because they are so sweet anyway). Thanks for the recipe!
Preheat oven to 350F.
Combine pancake mix, milk and egg; set aside.
In a 10-inch pie plate (in oven) melt butter and remove from heat.
Spoon berries in bottom of pie plate.
Carefully pour batter on top.
Bake 18 minutes or until top springs back when tapped.
Loosen edges and invert onto serving plate.
Cut into wedges and serve with maple syrup.
NOTE: This simple breakfast can be made with almost any fresh, frozen or canned fruit.
Just be sure to drain well.