Anna M.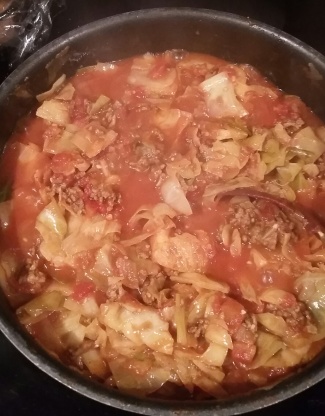 Much easier dish than preparing cabbage rolls and they still have the same delicious taste!
Great recipe! Even my young son who doesn't like cabbage tore it up!!! I would recommend adding a bit more seasoning. More like 2 TABLESPOONS of salt and 2-3 teaspoons of black pepper. Perhaps even a teaspoon or two of onion and/or garlic powder. Additionally 12-14 ounces of beef or vegetable broth would be nice as the dry rice consumes about all the juice and makes it a little gummy.
In a large skillet or dutch oven, brown the ground beef and onions. Drain.
Add the garlic and cook an additional minute.
Add remaining ingredients.
Bring to a boil, cover, reduce the heat and simmer about 25 minutes or until the cabbage is tender.