Cabbage Rolls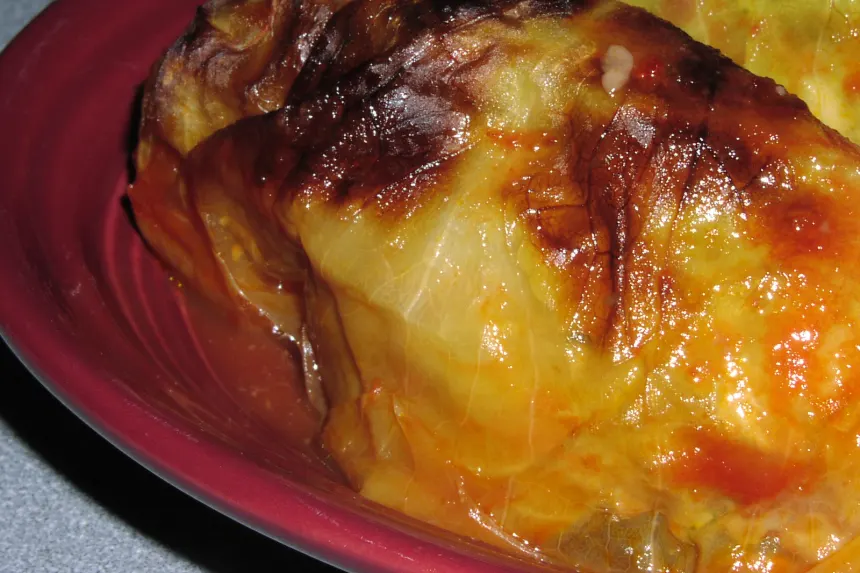 photo by teresas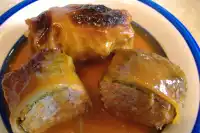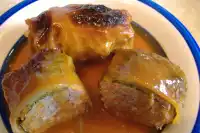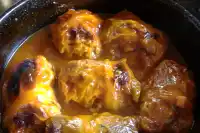 Ready In:

1hr 20mins

Ingredients:

12
directions
Mix together meat, rice, egg, onion, carrot, salt, pepper and bacon.
Spoon mixture into the center of each of the 12 cabbage leaves.
Roll up, tucking in sides to completely enfold meat.
Place folded side down in a greased baking dish.
Mix together brown sugar, lemon juice and tomato sauce.
Pour over rolls, cover tightly and bake at 375°F for 1 hour.
Uncover and bake 20 minutes longer.
Questions & Replies

Got a question?
Share it with the community!
Reviews
Great tip for the cabbage. Put your cabbage in 2 plastic bags and tie them up tight. Put your cabbage in the freezer. The night before you make your cabbage rolls take out your cabbage and let it thaw out. Cut out the core and the leaves will just peel off. There is no need to boil the cabbage. My Mother was a Chef and this is what she taught me. It works every time and it is so easy to do. This takes a lot of work out of making these scrumptious cabbage rolls.

 

My very first attempt at Cabbage Rolls/Stuffed Cabbage and they turned out wonderful! The hardest thing about it was separating the cabbage leaves from the head without tearing. To get each leaf in one piece without tearing, I put the whole head of cabbage in a 12" wok half filled with water over medium heat to wilt the leaves, then cut each leaf one at a time from the base. Thanks for posting. Will definitely make this again.

 

By far the best cabbage rolls I've ever made!! I cooked the rice before hand and was careful in mixing the right proportion of beef to rice (fluffy) I had about 3 pounds of ground chuck to work with. I grated the carrots and parboiled them for less than a minute, just so they were no longer raw. Then the carrots and onions added to the beef/rice mix made the filling texture perfect-light and loose but still holding together,with great flavor from the veggies and bacon!!The only thing I added to the filling was about a half a teaspoon of garlic powder (would have used fresh garlic if I had had more time.) I took the cabbage apart by cutting out the inner stalk and parboiling each layer to make it easy to remove without tearing (this took a while.) I was looking for that sweet spicy hungarian flavor in the sauce and made it by using one family-size can of condensed tomato soup and one large can of tomato sauce. I used the juice of 4 medium lemons and about 1/4 cup brown sugar, plus almost 2 teaspoons of fine ground black pepper and a few small shakes of ground cloves(not much for the amount of sauce I had.) Took a while to bake at 375, maybe 2 hours (big pan.) I baked it covered at 375 for 1 1/2 hours and another 20 minutes after I took the foil cover off. Great dish. I will always follow this recipe for cabbage rolls!! The carrots and the bacon really make them tasty and the lemon juice added zing to the almost sweet sauce. Very yummy!

 

I'm always looking for recipes that I can fix when friends and family are coming over and saw this. I knew I had to try it and I am so glad I did. The rolls were delicious! I used brown rice instead of white. I left out the bacon, as I prefer them without. I added celery in with the onion and carrot. The end result was a great pot of cabbage rolls that everyone gobbled up and complimented me on with each bite!

 
Tweaks
These were fabulous. We thoroughly enjoyed them. Made them exactly as written except that I didn't have any eggs or lemon juice so I opted to ignore the egg and used some vinegar in place of the lemon juice, worked great. I also doubled the sauce recipe, so glad I did. Served them with pierogi's, absolutely delicious.

 

Yum! Everyone liked this recipe and that almost never happens. I did think the sauce was too sweet, but considering the toddlers ate it, it doesn't matter. I used Gailanng's method for wilting the cabbage (#378164) and added parmesan to the meat mixture and subbed garlic powder for the onion to see if the little ones would eat it because they do like garlic. Perhaps that is the trick. Thanks!

 

I love the fact that I don't have to pre-cook the rice for this recipe. I've made it a couple of times now, and here are my modifications - skip the bacon (I have trouble finding un-factory farmed bacon, so I just don't eat it), and replace at least half the beef with 2 cups cooked white beans (any variety; 1 cup dried, soak overnight, boil 30-45 minutes). You still get all the beef flavour and protein, but with half the fat, guilt, and GHG emissions (yay!). I'm too lazy to individually wrap the cabbage rolls, so I chop some cabbage and add it to the mix. Pour half the sauce into a casserole dish, then line the dish with 3-4 layers of cabbage leaves, put the filling into the cabbage "bowl" you've created, cover with more leaves and pour the rest of the sauce on top. The downside is you have to bake it for an hour to an hour and a half. I suggest mixing up some cookies or dessert to make good use of the oven while it's on :).

 

My husband nor myself had had cabbage rolls before, but wanted to try it out. I found this recipe and used it as a base. We are "picky" eaters so we modified it a bit to suit us. Instead of ground beef, I used lean ground turkey, and turkey pepperonis cut up instead of bacon (we do not eat pork and has it on hand :) ) I also added some spinach to the stuffing. The sauce was delish, we did add mushrooms though (my husband nearly licked his plate after wards ). Thank you for this recipe, we definitely will make this again, and again and again lol.