Ukrainian Kovbasa (Kielbasa) Potatoes and Sauerkraut
Bergy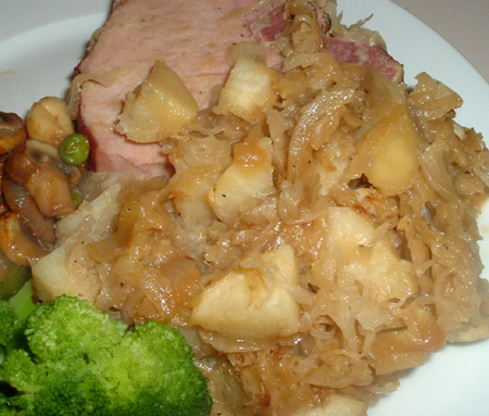 This classic Eastern European skillet supper has been updated with red potatoes, but ordinary potatoes may be used instead.

Top Review by Bergy
I love sauerkraut & potatoes together - Very tasty recipe. I substituted a smoked porkchop for the Kielbasa and baked it as a casserole in a slow 325 oven covered for 1 1/2 hours. The chop was moist and fall off the bone tender - the flavors of the wine, sugar, onion & kraut fused and I thoroughly enjoyed my dinner thanks Olga for posting.
Melt butter and sauté onion until golden brown. Add sauerkraut, wine, stock, vinegar, brown sugar, bay leaf, salt and pepper. Bring to a boil and then simmer about 20 minutes. Add potatoes and kovbasa. Stir in mustard, and simmer until potatoes are tender. Serves 4-6.
Simmering Suppers.