Ukrainian Homemade Sausage (Kovbasa)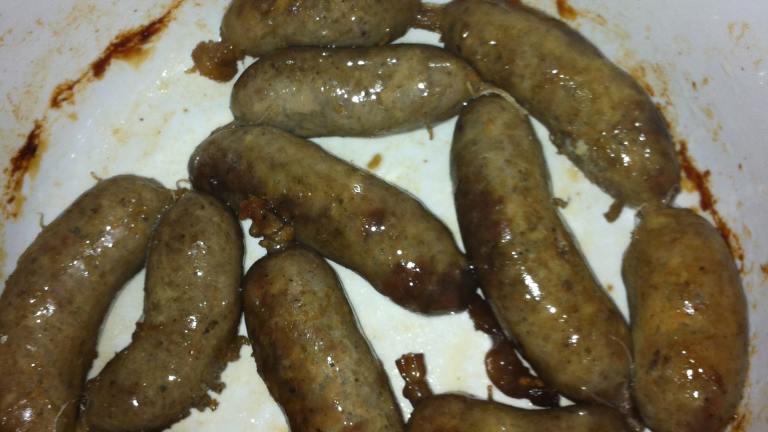 There is nothing as tasty as home made kovbasa. This sausage does not have to be smoked.
Ready In:

1hr 10mins

Serves:

Units:
directions
Grind pork coarsely, once.
Bone and chill beef.
With a very sharp knife, dice 2 pounds beef into 1/4 inch cubes.
Dice 1/2 pound fat similarly and grind the other 1/2 pound of fat.
Mix meats and fat in a large bowl.
Mash peeled garlic with salt in a mortar,and add pepper and allspice.
Mix all ingredients.
Add 1 cup water for each 2 pounds of meat, then add whiskey.
Cook a small sample in a little boiling water.
Taste and adjust seasoning (be conservative with the salt).
Wash casing in cold water, rinsing several times.
Carefully thread 1 yard of casing over a sausage funnel and stuff, taking care not to leave air pockets.
Do not pack or sausages will burst while cooking.
Tie ends with string.
Repeat until all meat is used.
Refrigerate, loosely covered with towel, for 48 hours.
Sausage may be smoked (following smoker directions) or cooked fresh.
TO COOK FRESH, simmer gently in a wide pot one-third full of water until cooked through, about 30-40 minutes.
Drain, cool, and refrigerate loosely covered.
TO SERVE, saute in a little fat for color.
Or serve cold in thin diagonal slices.
NOTE: Peperivka, cayenne-flavored whiskey, is made by soaking 10 whole red cayenne peppers in a pint of blended whiskey or bourbon for at least 48 hours.
Submit a Recipe Correction
RECIPE MADE WITH LOVE BY
"There is nothing as tasty as home made kovbasa. This sausage does not have to be smoked."
This is an excellent sausage! I make homemade kielbasa every year, though using my Polish folk's recipe.. this year I wanted to try something different, so I used yours this time.. I'm not really sure if this is really 'yours' or not, because I did a search on the internet for Ukrainian sausage recipes, and there were many hits but they all posted 'this' recipe, lol.. anyhow, where was I? I went with the least amount of salt, 4 ounces course salt, which equals 3 TBS.. I found that this was the same amount of salt suggested for the amount of meat/fat in a sausage book I have, so I went with that, and I found that the flavor was perfect.. not too little or too much.. I did smoke some rings of this, but overall, my favorite way to cook this is to boil it (unsmoked) for a couple hours, then brown it under the broiler on both sides.. delicious! The only deviation I made was in making the spiced whiskey - I grow tabasco's so I used those instead of cayenne, but it worked out great. I'm not sure what the spiced whiskey does, since the sausage is not spicy at all.. I'm thinking it was just passed down from some drunken gramma centuries ago, she probably did an 'oopsies' and spilled it into her meat mixture and said it was 'on purpose', but we may never know.. lol.. Anyhow, I only post 5 star reviews, period. Anything I try on zaar that I would rather not try again I just forget about, I don't want to hurt anyone's feelings because our tastes are all different, but this recipe wins 5 stars, in my book.. Thanks for posting this!