Turkey Wraps With Chipotle Mayonnaise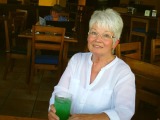 Look for chipotle chilies in adobo sauce in the Latin American foods section of the market. Serve the wraps with purchased salsa. Easy to double, triple whatever. I've made this for as many as 40 people From Bon Appetit Magazine October 2000
Directions
Combine mayonnaise, cilantro, green onion, chipotle chilies and lime juice in small bowl; stir to blend. Season chipotle mayonnaise with salt. Arrange tortillas on work surface. Spread each with half of
mayonnaise; top with turkey and lettuce. Roll up tortillas tightly, enclosing filling. Cut each wrap in half.
Reviews
Most Helpful
I made the mayo mixture, came out pretty good. I used a food processor to process the ingredients and used half of a lime. Awesome sauce!
Found this recipe looking specifically for a sauce for my turkey wraps and I was not dissappointed. I loved the chipotle mayo! Used fresh roasted turkey, spinach leaves, tomato, and cheddar cheese.
These were really good!! I did make some changes to cut the calories by using lowfat mayo and small low carb tortillas. I also added some smoked paprika to the mayo mix. Thanks!!