Turkey Vegetable Noodle Soup
VickyJ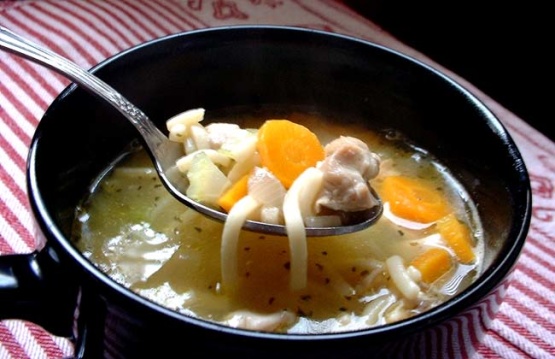 I don't usually make alot of soup, but I cooked a turkey last night for supper and decided to make some turkey soup from scratch...I am writing this now so I won't forget what I put in it..My family is very fussy but this was gone by breakfast today...I only got a very small bowl to taste!
I dont know,i didnt see spinach as last viewer said,maybe I missed it,anyway I didnt use tomatoes,i dont like tomatoes with chicken bullion ,but I do use turkey and the rest plus green beens.
3

stalks celery, diced
1⁄2-1 cup carrot, diced

2 -3

tablespoons minced onion flakes

1

pinch sage

1

pinch thyme

1

pinch rosemary

1

pinch garlic

1

pinch celery seed

1

teaspoon parsley

1

tablespoon spinach and mixed herbs (I use tastefully simple, it is just a mixture of dried spinach flakes, onion, green onions, dill and)

40

g of lipton chicken noodle soup (the one that uses 4 cups of water when you make it.)

1

cup turkey meat (as much or as little turkey meat you prefer)

1

(14 1/2 ounce) can tomatoes (I used my homemade ones with onion, celery and green pepper added)
Place turkey carcass into a large stock pot and completely cover with water.
Bring water to a boil and then turn down to 7 (medium high) and cook with lid on for approxiamately 2 hours.
Remove all bones and keep any meat that you can remove from the bones so you can place the meat back into the pot.
Add the remaining ingredients and 2-3 cups of water to the pot and simmer for 1-2 hours.
Enjoy!