Turkey Noodle Soup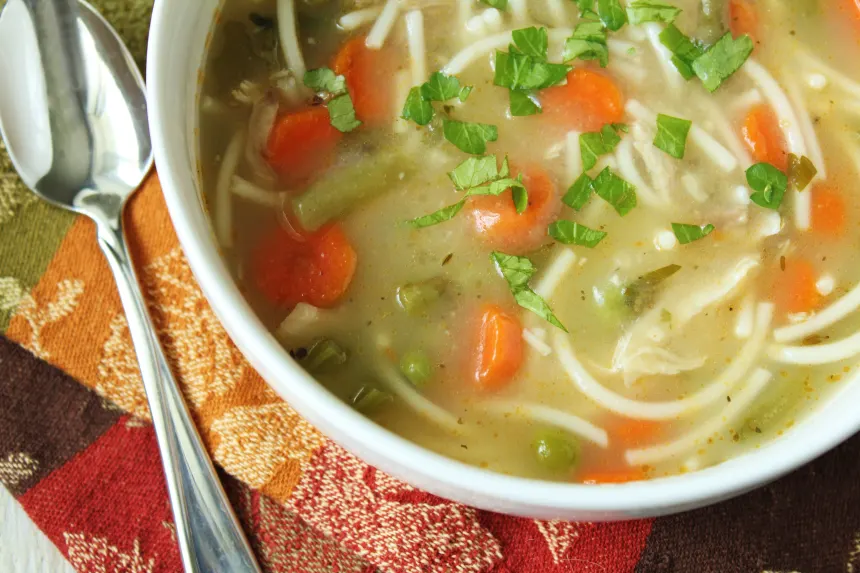 photo by DeliciousAsItLooks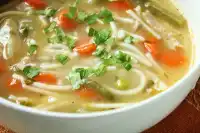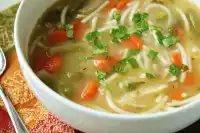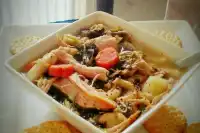 Ready In:

1hr 45mins

Ingredients:

16

Serves:

10
directions
In an eight quart kettle or Dutch oven place turkey bones, water -- down through to and including the bay leaf.
Heat to boiling; reduce heat, cover and simmer for 1 hour.
Remove the bones to a platter and let c ool.
Add the parsley through to green beans.
Heat to boiling; reduce heat and simmer for 10 minutes.
Meanwhile, scrape meat from carcass and return meat to soup pot. Add liquid if required.
Heat to boiling; add noodles and cook uncovered for 10 minutes.
Melt butter in a small frying pan; stir in flour.
Cook over low heat, stirring constantly, until the flour browns.
Stir into boiling soup.
When the soup returns to a boil; reduce heat and simmer for 5 minutes.
Serve hot in large bowls - as if there were any other kind! - Enjoy.
Notes: I serve this with fresh French Bread and butter.
I have used yellow beans and a mixture of both.
Once I wound up using frozen mixed vegetables - and it was still good.
On two makings, chicken was substituted for the turkey - and it turned out well.
Hints on Herbs and Spices: To substitute dried herbs for fresh, use 1/3 tsp powdered or 1/2 tsp crushed for every Tbsp of fresh chopped herbs.
To test for dryness before packing (in case of drying f resh herbs for winter use) put a few sprigs or leaves in a tightly covered jar and watch for condensation.
Store herbs in tightly covered jars, away from heat. Add mint, oregano, basil and any other dried herbs to recipes at the end or near end of cooking time for a more pronounced flavour.
If you are enlarging recipes, spice to taste rather than to measure. When preparing cooked foods for freezing, it is advisable to under-season them with herbs or spices, then add more seasoning to taste when you reheat them and you will have the ultimate in flavour.
Questions & Replies

Got a question?
Share it with the community!
Tweaks
WOW, so easy and an incredibly good, hearty soup! Based on other reviewers comments and our own preferences, I made a few adjustments, but the overall recipe is a WINNER that I will continue to use, with chicken as well! My modifications were: Instead of water, used low-sodium, low-fat chicken broth; instead of bouillon cubes, I used packet Lipton onion soup mix; I used 2 bay leaves instead of 1; instead of green beans, I used a jar mushroom pieces; can of corn; 3 gloves crushed garlic; and 1 tsp rosemary. Instead of flour/water roux, I poured in leftover turkey gravy, which was perfect. And finally, also cook my noodles separately and spoon them into individual soup bowls so they don't get overly done or leave the soup starchy. Thanks, Frank!!!

 

We had Turkey for the Thanksgiving (Canada) and used the bones and the leftover meat for this recipe. Man oh man!! It's the best!! I made some changes though, instead of chicken bouilon cubes, I used chicken powder also used dried parsley. I also added a little bit of thyme and used mixed veggies (carrots, corn, peas, beans and lima beans) as I have a lot of them in the freezer and lastly added some mushroms. We all enjoyed it and now we are looking foward for the next holiday to have turkey and I'll surely made this again.

 

Simply fantastic!!! I made it today and used many of the suggestions made by other reviewers - adding garlic, using chicken stock instead of water, added corn as well. I made the noodles on the side and added them in - great suggestion - makes the soup more versatile. I omitted the making of the roux as I did not think it was needed based on the other reviews. I am going to make this using rotisserie chicken from the store - dice up the skin and all. Thanks Frank!!!!!