Tre's Spinach and Feta Cheese Quiche
flower7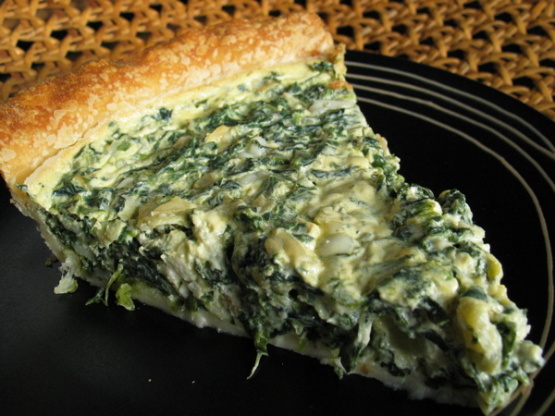 This reminds me of Greek Spanikopia. Its a wonderful and fairly easy recipe to prepare. There's never enough to go around!

Super easy to make and so delicious!

I made my own whole wheat crust from another recipe on Food.com.

I used 6 oz of feta. It doesn't need nearly that much oil (i only eyeballed enough for sauteeing) and added two crushed garlic cloves in with the onions and spinach (i use garlic in everything!). I did use light cottage cheese, regular half and half, but lowered the half and half proportion down to a half cup and added a half cup (plus a little extra) of non-fat greek yogurt. I also used more dill than it called for...not sure exactly how much but probably about 1/4-1/2 tablespoon...but then again, I LOVE DILL! I also added pepper

Plan on making this again very soon!
Preheat oven to 375°F
Chop onion and saute in oil 5 minutes.
Add frozen spinach in the 3 tablespoons oil and continue cooking, stirring often until all liquid is gone.
Transfer to a bowl and add remaining ingredients.
Pour mixture into unbaked pie crust and bake degrees for 30 to 35 minutes or until knife inserted into center comes out clean.