Tres Leches (Three-Milk Cake)
mykr72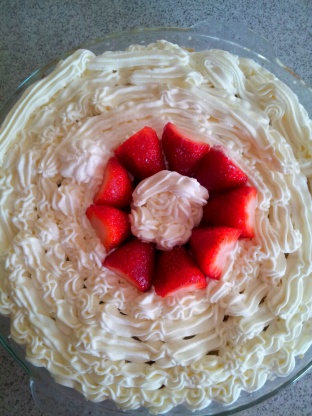 Dairy products effectively neutralize the heat of chilies. Cool off after a spicy Mexican meal with this cake. This is my most requested tres leches recipe and the simplest to make!

Top Review by 379576
To anyone making this cake, or any tres lehes cake, instead of poking it with a fork to absorb liquid, I simply turn the cake over on alumminum foil straight out of the oven and let it cool completely. When it is done cooling the top of the cake comes off and exposes the top. I then soak it and it absorbs the milk beautifuly.
In a large bowl, with a mixer on high speed (use whip attachment if available), beat eggs and sugar until thick and pale yellow, 5 to 6 minutes.
In a small bowl, mix flour and baking powder.
With mixer on medium speed, gradually add flour mixture in small increments and beat until smooth.
Scrape batter into a buttered 9 by 13 inch baking pan.
Bake in a 325 degree oven until a toothpick inserted in the center comes out clean, 30 to 40 minutes.
Meanwhile, in a blender, whirl condensed milk, evaporated milk, regular milk, Kahlua, and vanilla until well blended.
Pour evenly over hot cake; let cool about 15 minutes, then cover and chill until cake has absorbed all the milk mixture, at least 3 hours, or up to 1 day.
Cut cake into squares or rectangles, lift out with a wide spatula, and set on plates.
Top each piece of cake with a spoonful of whipped cream and garnish with strawberries.