Rita1652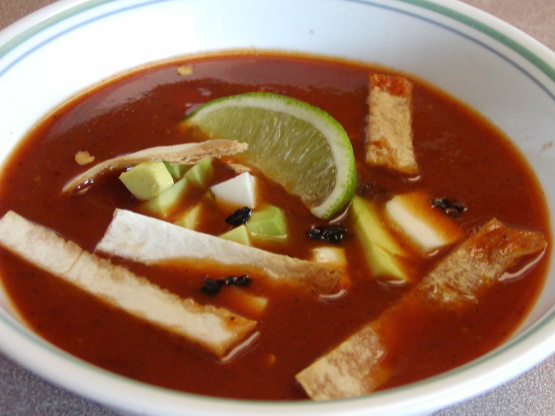 light chicken free version using dried chiles and epizote from cooking light-

I enjoyed this spicy soup. I didn`t have any epazote to use. Didn`t miss it. The chilies I processed with the rest of the ingredients.I didn`t need to strain it. I did cut the recipe down to serve just the 2 of us. Bad mistake because I wanted more!:( Thanks for a tasty soup!
Preheat oven to 400°.
Cut tortillas into 1/4-inch-wide strips. Place strips on a baking sheet. Bake at 400° for 8 minutes or until golden. Set strips aside.
Heat a large saucepan over medium-high heat. Coat pan with cooking spray. Add onion and garlic; sauté 7 minutes or until golden. Place onion mixture and tomato in a blender or food processor; process until smooth.
Recoat pan with cooking spray. Add chiles, and sauté 60 seconds or until fragrant. Remove chiles; cool completely. Remove and discard stems; chop chiles.
Place pan over medium-high heat. Add tomato mixture, and cook 15 minutes or until mixture is very thick (consistency will resemble tomato paste), stirring frequently. Add broth and epazote; bring to a boil. Partially cover, reduce heat to medium-low, and cook 30 minutes. Strain mixture through a fine-mesh sieve over a bowl. Discard solids.
Ladle soup into bowls. Divide the cheese, tortilla strips, and avocado evenly among bowls. Sprinkle each serving with crumbled toasted chile. Serve with lime wedges.