Tomato and Roasted Red Pepper Soup
Pamela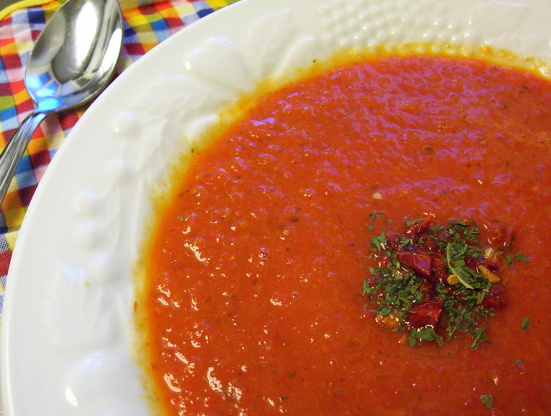 This is my favorite soup. It's a nice balance of sweet and savory, and it freezed beautifully. I like it with grilled cheese. (I hate to specify a brand name / hard to find ingredient, but I haven't found a good substitute for Thai Kitchen's roasted red chili paste.) [This is adapted from The Naked Chef (Jamie Oliver).]

Excellent! I bought a jar of bulk roasted red peppers and the jar broke... so I had to find some recipes to use them in. I had four different ones picked out, but after trying this soup I scrapped the other recipes and made four batches of it to freeze for later. I used veggie stock instead of chicken to make it vegan, it couldn't have turned out better.
Broil the red peppers, turning them so they blacken on all sides. Once they're black, put them in a bowl, cover tightly with plastic wrap, and leave them until they're cool enough to handle (about 30 minutes). Peel, seed, and roughly chop them.
Warm the olive oil in a thick-bottomed pot over medium heat. Add the peppers, chili paste, and a pinch of salt, stir to combine, and cook for 5 minutes.
Finely chop the garlic, add to the pot, and cook for 2 minutes.
Drain the tomatoes, and add to the pot with the red wine vinegar and a pinch of salt. Cook for 10 minutes.
Add the chicken stock. Puree with a stick blender until smooth, and simmer for 15 more minutes.