Tiramisu Bites (Diabetic Friendly)
flower7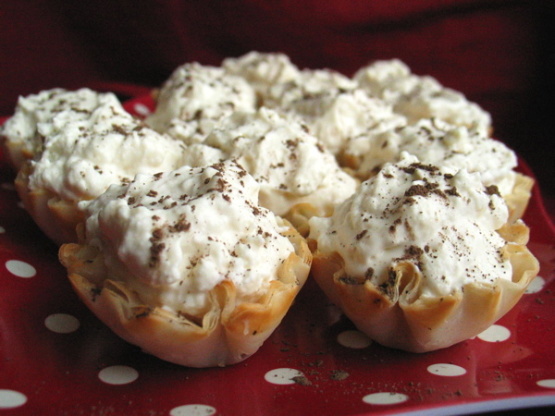 A low-fat, low sugar dessert treat. Great for a holiday dessert tray. From Chris Smith, The Diabetic Chef Cook time is chilling time. SEE NOTE AT BOTTOM FOR NUTRITIONAL INFO!
Combine cream cheese, Splenda, coffee and vanilla in medium bowl and mix until smooth. Cover and chill 2 hours.
Fold in Cool Whip.
Using a spoon or a pastry bag, fill tart shells.
Serve.
NOTE: Zaar doesn't recognize several of the ingredients, so Zaar nutritional info is wrong. Real info is: Calories-9.9, Total fat-0.7g, Saturated Fat-0.5g, Total carbs-0.7g, Sugars-0.6g, Sodium-5.2mg.