COOKGIRl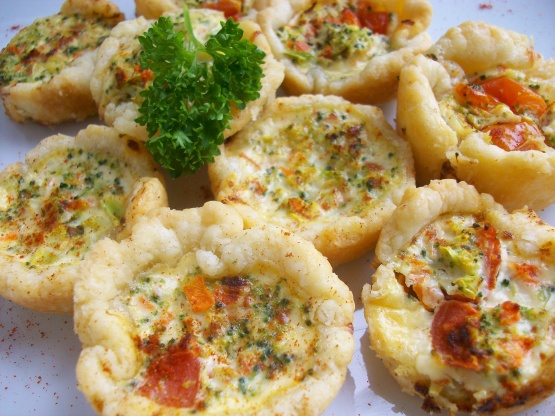 Recipe from a relative. Prep time does not include the time needed for the dough to chill.

Technically, this is our dinner tonight but I had to taste test it first, right? I added finely minced carrot and broccoli and threw in a few cherry tomatoes cut up into small pieces. I substituted grana padano Parmesan and white pepper for black. Easy to make and it was made easier by utilizing a tortilla press to form the dough. Thanks for posting. There are many avenues with this recipe. Reviewed for Veg Tag August.
Cream butter and cream cheese together.
Use your hands to work in the flour.
Chill dough for about 30 minutes.
Meanwhile, beat egg, milk, salt, and pepper together and put to the side.
Preheat oven to 350°F.
Divide dough into small balls and press into miniature tins.
Divide the Swiss cheese into the unbaked shells.
Drizzle egg mixture over the cheese.
Sprinkle with paprika.
Bake for 30-35 minutes.