Tiny Apple Pies With Crumble Topping
COOKGIRl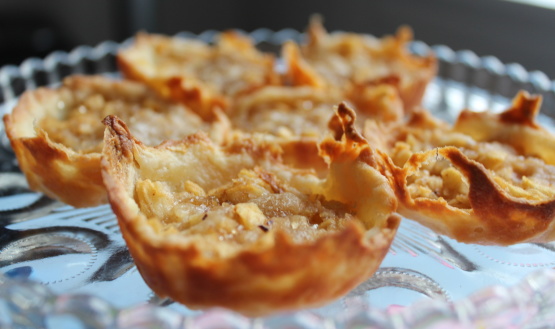 I love to serve finger foods at parties and get-togethers, and I wanted to do some tiny pies, but all I could find were recipes for regular muffin sized "mini" apple pies. So here's what I came up with for tiny bite-sized apple pies! I have successfully made these gluten free by checking ingredients and using a gluten free flour blend. Prep time includes 1 hour chill time for dough.

What a darling recipe! I reduced the yield to six mini pies. First I buttered muffin tins (standard size-don't own mini one). Used a food processor to finely mince the apple. Added a small pinch of ground cardamom. Chilling the dough helps tremendously because it is sticky. A wax paper-lin tortilla press was used to flatten the dough, sprinkling the wax paper with a light dusting of flour. Baked about 22 minutes. Removed to counter, let cool 5 minutes then carefully transferred to a wire rack to cool. The tops were lightly sprinkled with some raw sugar for presentation. The apples could easily be substituted with other seasonal fruit: pears, peaches, berries, etc. Will make again! Reviewed for Veg Tag/February. PS Didn't have enough cream cheese on hand and used a little bit of whole milk yogurt.
Cream butter and cream cheese together. Once well combined, add flour and work into dough by hand or by mixer. Chill dough for about one hour.
Meanwhile, make the filling by combining the apples, sugar, cinnamon, and nutmeg. Allow the apple mixture to sit and flavors to meld.
Combine flour, brown sugar, and nutmeg into a small bowl, stirring well. Cut in butter until it resembles coarse crumbs.
When dough is ready, preheat oven to 400°F.
Divide dough into 24 small balls and press into the bottom and up the sides of the cups in a miniature muffin pan.
Fill each crust with apple filling - this should rise a little above each cup, as the apples will settle a bit during baking. If you have extra juice in the bottom of the bowl when you've used up the apples, divide that up throughout the cups too.
Top each pie with crumble topping.
Bake for 18-20 minutes. Filling will be bubbly and top a light golden brown when ready.