Brenda.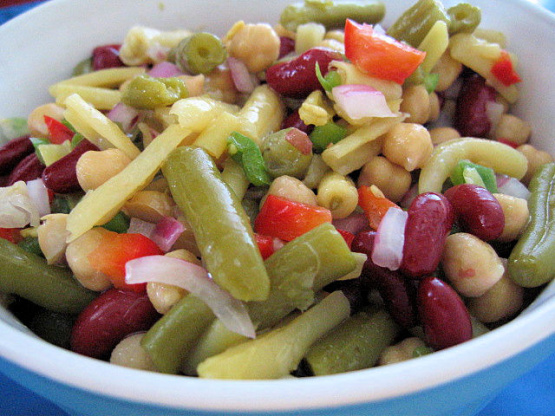 Tangy and sweet, this has a little less sugar than other recipes. I plan to try this with splenda. Adapted from my More With Less Mennonite cookbook. Either canned or dried, cooked beans may be used. I chose my favorite beans, but many other kinds can be substituted.

Simple, quick, and unexpectedly tasty. We made this a part of our cooking club, and while looking at all the beans not screem, eat me - all of loved it.
Cook green beans till tender.
Drain canned beans and rinse.
Toss beans with onion and pepper.
Combine the oil with remaining ingredients and pour over the beans.
Chill at least 4 hours before serving.
Flavor improves with marinating overnight or longer.