The Ultimate Salsa Fresca
Rita1652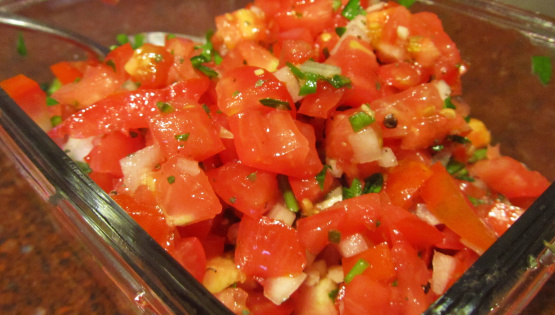 Salsa fresca is a generic term for any salsa that isn't cooked. There's no right or wrong way to do it - everyone does their own thing. This recipe is my take on what my mom used to make, but I think it's exceptional. (Pat on back, LOL!) Measurements are loose, but the key is the olive oil and mexican oregano. Prep time includes 15 minutes of standing time.
In a non-reactive bowl, combine first six ingredients.
Add salt and pepper to taste.
Add the minced serrano chiles, a little at a time, tasting for "heat" until you reach the level you can stand.
Let stand for fifteen minutes to let the flavors meld. A small squeeze of lime juice is also good.
Refrigerate until ready to use. Will NOT keep overnight.
NOTE: this is such a versatile salsa. Try it in scrambled eggs, then rolled in a flour tortilla (breakfast burrito). Yum!