The Neely's Grilled Potato Wedges
Noo8820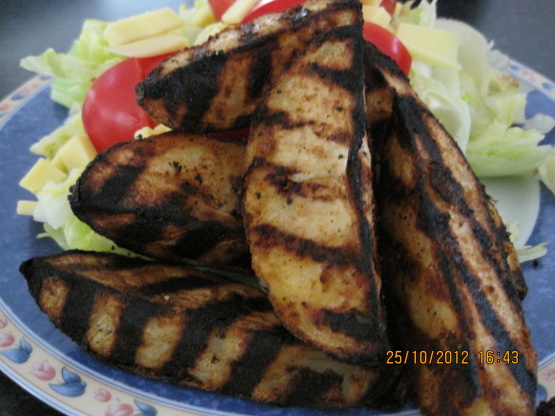 The simplest way to grill sliced potatoes is to parboil them first. This makes for fast and even grilling. The appetizing grill marks will make them irresistible.Enjoy! From the "Neely's Celebration Cookbook".

A very tasty way to enjoy potato wedges, that is so simple and quick too!
I used a mixture of sweet and smokey paprika, as it didn't specify which ( and I am addicted to smokey paprika, but that's another story!), ..
Beautiful flavour from very few ingredients and very little effort....which means that next time even DH can have a go!!
Loved it Sharon, thank you very much.
Made for PRMR.
Barbeque rub:.
Stir together all the ingredients in a bowl. If stored in an airtight container in a cool, dry place, this seasoning will last for up to 6 months. Makes 2 1/2 cups.
Potato wedges:.
Preheat the grill to medium heat.
Put the potatoes into a large pot of cold salted water and bring to a boil. Reduce the heat, and simmer for about 15 minutes, until the potatoes are just slightly tender but not cooked all the way through. Drain the potatoes, and dry well. Slice them into thick wedges, six wedges per potato.
Whisk together the olive oil, barbecue rub, salt and pepper in a large bowl. Toss the potato wedges with the oil and seasoning. Grill the wedges, turning, for about 10-15 minutes, or until golden brown and crisp all over. Season with more salt and pepper before serving.
Note:.
Be careful not to overboil your potatoes! Leaving some resistance in the boiled potatoes is a good idea; you don't want them to fall apart on the grill.