The Naughty Things I Do for Chicken Tortilla Soup
Leslie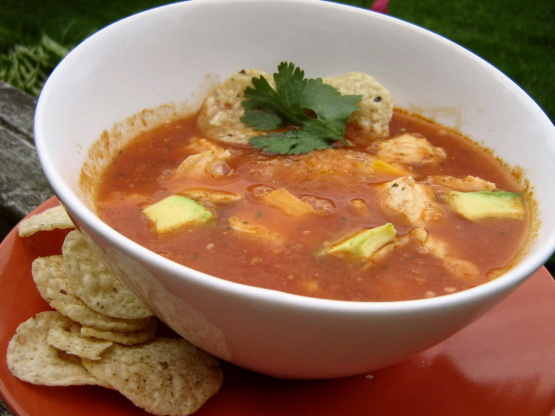 El Fenix Restaurant is a Dallas institution open since 1913. I had my first job waiting tables there and had a bowl of this soup everyday. I won't bother you with the details of what I had to do to get this coveted recipe out of temperamental Chef Jorge... but it is illegal in about half of the states.

This soup was delicious, although I did make a few modifications. This recipe is a great base, but lends itself to adding things to suit your taste. I added 1 tsp of ground cumin and 2 tsp of chile powder. I used diced tomatoes with jalapeno for some added heat. I added black beans, corn, zucchini and carrots because I wanted lots of veggies in it. I also used chicken from a precooked rotisserie chicken and I used homemade chicken stock. We added cheese, avocado, cilantro, and tortilla chips and topped it off with a few dashes of Tobasco and a dollop of sour cream. Delicious!
In blender combine undrained tomatoes, onion, garlic, cilantro and sugar.
Pulse in blender until chunky.
In large saucepan, add vegetable mixture and chicken broth and chicken pieces.
Simmer 20 minutes, season to taste.
To serve:.
Place cheese, avocado, and broken chips on bottom of bowl. Pour very hot soup over this in bowl. Sprinkle with fresh green onion tops and cilantro/parsley.
Sprinkle with lime juice, if desired.