Prep 15 mins
Cook 10 mins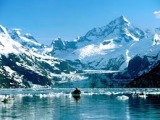 An easy version. Feel free to add some extra veggies, or sub another protein for the shrimp. This recipes lends itself to easily adjusting ingredients to your liking. Enjoy! Note: This will serve 2 as a main course or 4 as a side dish.
Directions
Stir all 'stir fry sauce' ingredients together in a cup until sugar dissolves. Set aside.
Heat a wok or large frying pan over medium-high heat. Drizzle in 1-2 tablespoons oil, then add garlic and chili. Stir-fry 30 seconds to release the fragrance, then add shrimp. Stir-fry until shrimp turn pink and plump (2-3 minutes). If needed, add a little more oil or 1 teaspoons water to keep ingredients moist and sizzling.
Add carrot and fresh coriander and continue stir-frying 1-2 more minutes.
Add rice and drizzle the stir-fry sauce over. Use a large flat utensil or spoon, use a scooping motion to fry rice 2-3 minutes, or until sauce is well distributed.
Push rice aside to clear a space in the middle of your pan. Add 1-2 teaspoons more oil, then crack in the egg. Quickly scramble egg, gradually combining it with surrounding rice.
Remove from heat. Sprinkle over white pepper and stir in the green onion. Taste-test the dish for salt balance. At this point I usually add 2-4 teaspoons more fish sauce, as I like mine on the flavorful/salty side, but this also depends on how much rice you're making. If you happen to find it too salty, squeeze over some lime or lemon juice. Serve immediately and ENJOY!
Most Helpful
Wow, what a great recipe. This shrimp fried rice was amazing. Quick and easy to make with terrific results. Hot and spicy, full of flavor. I used both the carrot and the peas. Thanks for sharing LIG. Made for CQ3 - Thailand & Indonesia.
Excellent! We really loved the wonderful flavors in this fried rice dish. I opted for the grated carrot, but this would be just as wonderful with peas as well. The stir-fry sauce added a lovely tang. As written, it's enough for a pretty filling main dish. But I would also consider halving the recipe, chopping the shrimp, and serving it as a side dish. But as written, it's definitely a "keeper" recipe. Thanks for sharing your recipe, LifeIsGood. Made for Culinary Quest 2016 (Thailand/Indonesia).

This makes a quick and tasty lunch or dinner. I made 2 servings reducing the rice to 2 cups and using leftover steamed black rice. I added in both a grated carrot and some frozen peas. Probably used a little over 1 cup medium size shrimp and the full amount of sauce. The cilantro was added after cooking and then additional sprinkled over as garnish. I think this would be great with fresh Thai Basil in place of the cilantro. Made for Aussie swap.